Why Diversity, Equity, and Inclusion Matter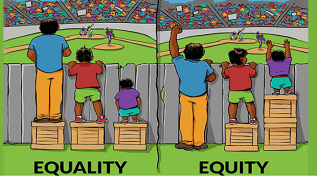 Editor's Note: This Independent Sector blog post originally appeared here.
---
Diversity, equity, inclusion. Nonprofit organizations use these words as they strive to become more diverse, yet many leaders are uncertain about the steps needed to turn dialogue – and intention – into action. ProInspire's work to develop leaders at all levels for the social sector has shown us that for many organizations, the desire to increase diversity isn't translating into the reality of an environment that enables people of different backgrounds to succeed, and diverse, mission-advancing perspectives to be heard.
There has never been a more relevant time to help organizations succeed in their efforts to strengthen diversity, equity, and inclusion. The Independent Sector Diversity, Equity, and Inclusion focus area highlights information and tools to help leaders make the changes that will lead to more diverse, inclusive, and equitable organizations. In this post, we offer a foundational understanding of the issues: baseline definitions, the case for why diversity matters, and an introduction to the resources that you'll find in the Diversity, Equity, and Inclusion focus area.
Definitions
We define diversity, equity, and inclusion based on language from the D5 Coalition, Racial Equity Tools Glossary, and UC Berkeley:
Diversity includes all the ways in which people differ, encompassing the different characteristics that make one individual or group different from another. While diversity is often used in reference to race, ethnicity, and gender, we embrace a broader definition of diversity that also includes age, national origin, religion, disability, sexual orientation, socioeconomic status, education, marital status, language, and physical appearance. Our definition also includes diversity of thought: ideas, perspectives, and values. We also recognize that individuals affiliate with multiple identities.
Equity is the fair treatment, access, opportunity, and advancement for all people, while at the same time striving to identify and eliminate barriers that have prevented the full participation of some groups. Improving equity involves increasing justice and fairness within the procedures and processes of institutions or systems, as well as in their distribution of resources. Tackling equity issues requires an understanding of the root causes of outcome disparities within our society.
Inclusion is the act of creating environments in which any individual or group can be and feel welcomed, respected, supported, and valued to fully participate. An inclusive and welcoming climate embraces differences and offers respect in words and actions for all people. It's important to note that while an inclusive group is by definition diverse, a diverse group isn't always inclusive. Increasingly, recognition of unconscious or 'implicit bias' helps organizations to be deliberate about addressing issues of inclusivity.
The Case for Diversity, Equity, and Inclusion
Four key arguments make the case for diversity, equity, and inclusion:
Why Does This Matter Now?
Nonprofits and foundations are talking about these issues in ways that we have not seen before. Multiple factors have influenced this conversation. First, recent social movements have pushed this issue to a higher priority; Black Live Matters, the marriage equality movement, and the movement to end mass incarceration all focus on inequities in our country. What's more, other industries are openly talking about their diversity and inclusion efforts and showing how they benefit the bottom line. The technology industry, in particular, has been spotlighted with organizations sharing data, individuals sharing experiences, and media scrutinizing progress. Finally, the philanthropic sector is starting to collect data so we can track our own progress, or lack thereof. The D5 Coalition conducted the first-ever, comprehensive collection of diversity data in philanthropy over the past five years. Their State of the Work report shows that more foundations are reporting their own demographic data, and collecting data from grantees, than when the initiative began in 2010. However, it also documents minimal to no progress around people of color at different levels in foundations in the same period.
Role of the Diversity, Equity, and Inclusion focus area
We believe that an organization that prioritizes diversity, equity and inclusion creates an environment that respects and values individual difference along varying dimensions. In addition, inclusive organizations foster cultures that minimize bias and recognize and address systemic inequities, which, if unaddressed, can create disadvantage for certain individuals. This is not a human resources issue, it is a strategic issue. These efforts should be reflected in organizational mission, vision, and values; incorporated into strategic plans; and cascaded throughout the organization.
The focus area will include resources tied to the nonprofit workforce: the current state of diversity, recruitment and selection, retention and diverse teams, leadership and boards, and programs and stakeholders. Where applicable, we highlight resources that apply to specific diversity characteristics. In summer 2016, we focus on race, ethnicity, age, and generations. During the rest of 2016, we will focus on gender, economic diversity, physical ability, sexual orientation and gender identity.
Leaders must invest time, resources, and courage to make progress on creating an inclusive environment. We encourage you to leverage resources in the focus area as you take action in your organization. We are all in this together, and through collaboration we can achieve better, and faster, results. We welcome your ideas, suggestions, and feedback via email to Marie LeBlanc.