The Promise and Challenge of Community Democracy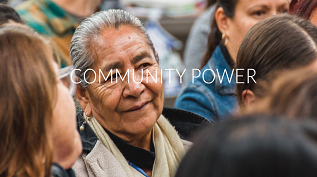 Editor's Note: This blog post originally appeared here.
---
Across the field, philanthropy and other potential change-making institutions have grappled with implementing place-based initiatives and funding community-transformative systems. We have seen that success and impact rely on efforts led by collective individual action in communities across the country, and across different cultures and demographics. At their core, successes share one key attribute: they are led by, and realized in collaboration with, the people directly involved and affected.
We at the Community Democracy Workshop, in partnership with Philanthropy Northwest, are proud to release a new report, The Promise and Challenge of Community Democracy, which highlights many of the essential understandings needed to build localized best practices. We highlight the common missing links and moving parts needed to truly begin building change in communities. Based on our experiences and observations, interviews with leaders in the field, and previous work by the Aspen Institute Roundtable on Community Change and other research institutions, we compiled some lessons learned.
First, we unpack the meaning of "community democracy" — which encompasses community involvement in all aspects of systems change — beyond civic engagement and beyond voting. We examine that "community capacity" is broadly understood in an upside-down way by institutions. Communities have a latent capacity to solve problems that can both exceed and in other ways complement the capacity of the nonprofit, public, and foundation sectors. It is in this latent capacity that the potential for change resides.
The "learning-by-doing" approach has been key to gathering critical insights — that getting deep into the community can also generate a different view of the work. Posing a series of insightful questions about how a community chooses leaders and priorities, makes decisions, and builds shared connection and purpose are critical assessment queries. In addition, in-depth workshops, coaching, and mentorship complement this assessment phase.  
We highlight root causes for why so many philanthropic, place-based, community-change initiatives have struggled. Lack of institutional  ability to work earnestly, with depth, and for sustained periods of time with low-income communities has long been recognized as a problem in the field. Less understood is the necessary requirement to catalyze an "indigenous community-change process" — one where change is prioritized, selected, community-driven and realized.
Finally, community democracy in action faces the following institutional challenges to build success:
There is unavoidable discomfort on the path to real change.

It is usual to under-appreciate and simply not understand both how hard and how necessary "process work" is.

The race to results often produces failure.

Culture and class is usually a barrier in developing a shared agenda.
In creating real change for communities, the path is long and the work is ongoing. It takes commitment from people from every walk of life, and institutions have to be prepared to change when choosing to engage in this work.
Despite the barriers to community democracy, we at the Community Democracy Workshop have been fortunate to see many instances of real change, led by community-rooted peer leaders and institutions willing to stand apart from the crowd. Read the full report here.