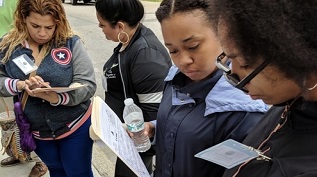 If you care about funding for your local community's low-income housing, early-childhood education, healthcare and food stamps, few initiatives have as much impact on these services as the Census.
The 2020 Census will directly affect the annual federal distribution of $700 billion to states, cities, and vital human services programs for the next decade. It also affects state and local redistricting, representation in Congress, and electoral college votes.
Funding local census efforts is high-impact and non-partisan.
Family foundations can play a critical role in ensuring a fair and accurate count.
You are committed to long-term investments in your local community. And you know which nonprofits can do outreach well.
The Census projects that its self-response rate could be as low as 60%, more than fifteen points lower than its counterpart in 2010. For immigrant and low-income communities, that number could drop below 50%. Outreach and support for residents in hard-to-count areas will be critical in increasing response rates and ensuring an accurate 2020 Census count.
Here are five things you can do now to ensure an accurate and fair Census 2020 for your community.
1. Educate your foundation board on why the 2020 Census matters.
The general public is unaware of how the census impacts local funding and political representation. Your board needs to know that a poor count will reduce government funding in the areas it cares about.
2. Host a Census Engagement Workshop to engage your board members as well as key stakeholders across sectors.
Invite civic engagement grantees and direct service nonprofits; these groups are familiar with your region's hard-to-count populations and expert in conducting on-the-ground outreach.
3. Allocate funding for census outreach.
Census outreach will cost nonprofits an estimated $16 – $22 for every hard-to-count person reached. Based on how many hard-to-count people live in your community, establish a budget based on your foundation's goals. Many of your grantees will be performing census outreach even as they continue to provide their regular services. Family foundations need to match this increased effort with increased funding.
Given the current political climate, trusted messengers such as nonprofits are best positioned to do census outreach. They have already built trust within their communities, and preliminary trials have found that messengers matters as much, if not more, than the message itself.
4. Review the technical assistance needs of the nonprofits who could conduct census outreach.
Training, support and technology tools to conduct the outreach will be vitally important to these nonprofits. The capability of communications technology has undergone a seismic shift since the last census; many of the hard-to-count people in your community rely a lot more on in-person outreach, supplemented by digital follow-up and reminders. Help support your grantees' capacity to conduct census outreach effectively and efficiently.
5. Think creatively about how philanthropy can support productive government and nonprofit partnerships.
For instance, your grantees could help recruit local people to work as enumerators. Depending on your region, census enumerators earn $13.50- $30/hour. This is significant for someone between jobs or who works multiple jobs. Recruiting census enumerators from hard-to-count communities will raise the response rate in those, as they are better able to communicate with their neighbors.
The 2020 Census will have a massive impact on how communities receive funding and political representation in the coming decade. An undercount would cause long-lasting consequences, harming social services and local planning efforts.
Family foundations can play a vital role in ensuring that this doesn't happen to your community.