Foundations Partnering to Raise the Next Generation of Philanthropists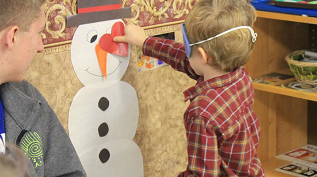 What do bat houses, park benches, and proms for senior citizens have in common? All were projects organized by children and teens in America's heartland thanks to a partnership between a family foundation and rural community foundations. The goal is to prepare teens to be tomorrow's community leaders and philanthropists. Their model, which has evolved over almost 25 years, has been a powerful example for the country's youth philanthropy movement.
A core belief of the Dekko Foundation in Northeast Indiana is that "Great things happen when adults step back and consider what children need to grow and develop." The late Chester Dekko, the founder, grew up in a close knit family during the Depression. He believed that education, hard work and self-reliance were the keys to a life of independence and choice. He envisioned his foundation helping young people prepare for a life of what he termed "economic freedom."
The foundation's grantmaking aims to equip young people with the skills, knowledge, and character they need to be self-sufficient in adulthood. A key component of that is youth philanthropy. Dekko Foundation has 13 "Youth Pods" in the four states where the founder had business or personal interests—Indiana, Iowa, Alabama, and Minnesota—and most are affiliated with community foundations. Since 1994, when the first Youth Pod started, more than 800 teens have participated.
No two are alike, "but all are teen-led with the help of philanthropic mentors called 'Navigators,'" says Dekko Foundation Program Officer Kimberly Schroeder. These volunteers, along with community foundation staff, support the youth in their efforts to learn philanthropy and share their time, talent, and Dekko Foundation's treasure. Anyone can be a Navigator, Schroeder explains. "In one community, the kids recommended a grocery store manager as their Navigator. They are often people who are pretty philanthropic themselves."
Each Youth Pod operates like a mini-foundation, with $15,000 in grant money provided by Dekko Foundation plus $2,500 for expenses.
"The grantmaking is some of the most important work they do," says Schroeder. "We give them the power to affect their community and they take that responsibility seriously."
But it's not all about check-writing. Here are examples of what the youth are doing:
Noble County's P.U.L.S.E. (Philanthropists Utilizing Lifelong Learning and Education) was Dekko Foundation's first Youth Pod, started in 1994. Teen members come from the three area school districts, with one student representative from each grade level from 8th through 12th grade who each serve for five years. Home-schooled and private school students are also included.
Along with grantmaking, the teens do a community service project every month from August through May. An especially popular one is the senior citizen prom. "P.U.L.S.E. wanted to build respect in Noble County, particularly between generations," says Community Foundation Executive Director Jenna Ott. "The young people serve a meal, provide big band music, and crown a king and queen." They dance with the seniors, too, who come from all over the region.
Another P.U.L.S.E. project is "Little Phil," for littlest philanthropist. The students teach philanthropy to third and fourth graders "so elementary kids can try their hand at philanthropy, too," Ott says. The Little Phils learn how to research community needs, and each class receives $100 to make a grant. "For example, one class complained that there were too many mosquitos at their ball park, so they researched how to eliminate them and gave $100 to buy bat houses."
Teens on Boards
Taking youth involvement a step further, Noble County has Teens on Boards, a program to equip high school sophomores and juniors to serve as members of local non-profit boards. Students gain real-life experience by serving on boards for up to two years, often continuing their service after they graduate from high school. With about a dozen nonprofits participating, Teens on Board demonstrates the value to the community when youth work alongside adults and provide their perspective on an organization's—and the community's—needs.
Just south of Noble County, the Community Foundation of Whitley County's Youth Pod is called HANDS (Helping Achieve New Directions through Students). Like the Noble teens, these youth perform service projects. They hold an annual holiday party for children in Head Start, and teach children in third grade classrooms about grantmaking. But the group is limited to 15 students. Responding to Dekko Foundation's question about how to open philanthropy to more young people, Whitley created Charitable Champions.
September McConnell, chief executive officer of the community foundation, approached an area middle school where eighth graders learn about civic responsibility. "We said to the teachers, what if HANDS created a philanthropy curriculum that you could teach?" McConnell says. The result was a workbook and videos created by and starring HANDs members and funded by Dekko Foundation.
"At the end we have a nonprofit fair," McConnell explains. "It's like speed dating." Groups of eighth graders ask questions of the various nonprofits attending the fair. Then the eighth graders in each group pick one nonprofit to focus on. The students ask their chosen nonprofit what its biggest needs are, then research the cost and write a grant on the nonprofit's behalf. The groups present their proposals to their classmates who decide on the best one.
"Finally, they present the winning proposal to the HANDS students who present the class with a giant check for their nonprofit," McConnell says. "In the process, the teens gain experience in public speaking, and they learn more about every nonprofit in their community. It's hard to measure output, but we know there's been a real impact on the kids when they go back to volunteer at their favorite nonprofit. That's what we are reaching for."
This summer, the community foundation and Dekko Foundation piloted Camp Lend a Hand, for veterans of Charitable Champions so the teens could go behind the scenes to see how a nonprofit operates, and then complete a service project and make a grant during the weeklong experience. It was led by a college student and former HANDS member.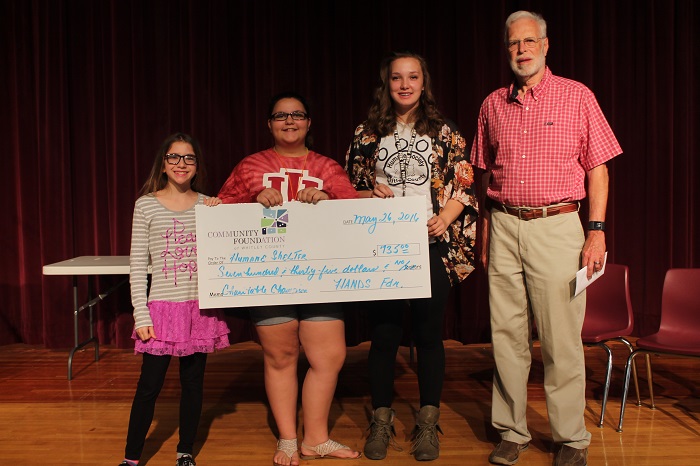 Youth Pod At a Boys Residential Facility
In 2013, Dekko Foundation staff reached out to a grantee who served families and children with many programs including a boys' residential facility called Pierceton Woods. "Youth served by this organization, particularly those at Pierceton Woods, often lack opportunities to build real leadership skills and develop a sense of responsibility," says Kimberly Schroeder. "When they arrive, they have limited experience in either area."
"We wondered what youth philanthropy could look like in that setting," Schroeder explains. "The most amazing things happened! The boys decided to ask the City Council for ideas about what they could do. They wanted to contribute but didn't know how." The Council identified a need to replace old benches in the town's amphitheater. With a $2,000 grant from Dekko Foundation for materials, the teens built new benches, learning valuable skills in the process. "Their criminal histories make finding jobs hard," the Dekko Foundation staff member says, "but with this project, they saw themselves contributing something of value to the community."
The Payoff
This family foundation/community foundation partnership of nearly 25 years has a triple bottom line—making a positive impact on communities, on youth, and on the foundations.
Hundreds of children and teens are already making their communities better. The Youth Pods have engaged teachers, adult volunteers, and nonprofits serving at risk youth, the homeless, and seniors, just to name a few. Relationships across generations have formed.
The benefits for youth are reflected in a recent survey of Youth Pod alumni that Dekko Foundation conducted. Of the respondents, 80% said they gained important skills such as decision making, leadership, communication, financial responsibility, awareness of the nonprofit sector and knowledge of formal philanthropy.
For the Dekko Foundation board, the success of their youth philanthropy investments recently led them to pursue another grantmaking focus: encouraging young people to engage in discussion and action at the local, state, and even national levels.
From a community foundation standpoint, "Teaching philanthropy at a very early age is part of donor development," says September McConnell. "We are creating the DNA of the consciousness of giving back. If we are here to create a better quality of life, what better way than to help people make a difference?"