How Segal Family Foundation is Deepening Impact with Grantees Through Scalable Technology Platforms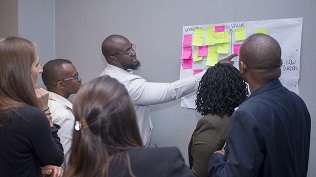 Grounded in a deep respect for and admiration of local community leaders, Segal Family Foundation envisions a reality in which power and capital are not in the hands of philanthropists, but rather at the fingertips of those same community leaders. Our mission is to build an equitable community of visionary organizations—both doers and donors—across Sub-Saharan Africa who together can improve the lives of millions. By alleviating the restrictions of traditional capital, including restricted funding and cumbersome reporting, we are enabling leaders to set the agenda for change in their communities.
Further, we believe our partners need more than our financial support. As part of what we call our Active Partnership model, we offer a package of capacity-building services to help our grantees build more connected, robust, and well-structured organizations. One of these tools is Catchafire, a virtual skills-based volunteering platform that has allowed us to provide scalable, cost-effective capacity-building support for all of our partner organizations.
When we first started working with Catchafire six years ago, we were excited by the potential to empower our partners—especially those with limited expertise in their community—to connect with the best talent in the operational areas that were most urgent for each individual organization. Catchafire as a platform allows nonprofits to post projects in the skills areas that they need and requires volunteers to apply to work on these projects. Over the past six years, through Catchafire's thoroughly pre-scoped projects, network of 50,000+ volunteers, and ongoing support from their readily available Nonprofit Advisors, our partners have been able to gain over $1.7 million in valuable work completed through over 14,500 hours of pro bono consulting on mission-critical and organization-specific projects.
Partners collaborating at the Segal Family Foundation Annual Meeting
Muzabel Welongo, Director of Resilience Action International, had this to say about his Catchafire experience:
"As a small organization with strong potential for growth, the introduction of Catchafire came at the time we needed it most. Through Catchafire, our organization now has a new professionally-designed website (which has received 99% approval rates from our board and team), well-designed logic models, a stronger strategic plan, as well as an effective fundraising strategy. All these have allowed for better management of our operations and measuring of our impact as a community organization."
Partner organizations have been able to gain support on critical needs including, but not limited to customized Salesforce database creation, annual report writing, communications strategy, and financial forecasting. Through newly-found connections with pro-bono consultants, some partners have also been able to source new donors, advisors, and, in some cases, board members to support their work. Catchafire has enabled Segal Family Foundation to provide broad and deep support for our partners, helping them build local skills necessary to then build local capital needed to transform their communities in powerful ways.
As we continue to explore how we strengthen our community, we are always thinking about how we can support our partner organizations. We are always open to discussing our approach with other forward-thinking philanthropists and changemakers. Feel free to reach out to us at info@segalfamilyfoundation.org.
To learn more about Catchafire, visit catchafire.org or contact Deb Berman at deb@catchafire.org.