Transparency Case Study: The Jay and Rose Phillips Family Foundation of Minnesota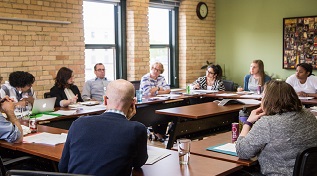 Editor's Note: What choices do family foundations and funds have when it comes to transparency? And what approaches do other families take when it comes to managing transparency, communications, and privacy? NCFP's new guide, Transparency in Family Philanthropy: Opening to the Possibilities examines how family funders are thinking, acting—and, in some cases, not acting—when it comes to how open and accessible they are with others. Opening to the Possibilities features a collection of five diverse funder stories exploring different takes on how families think about and act on transparency—and what they have learned as a result. This month we share the experiences and lessons learned from the The Jay and Rose Phillips Family Foundation of Minnesota.
---
When Patrick Troska was promoted to Executive Director at the Jay and Rose Phillips Family Foundation of Minnesota, he turned his eye toward how the foundation could be more entrepreneurial. "Jay and Rose built their wealth as entrepreneurs, and it prompted us to get out from our desks, engage with the community, and interact in a more relational and less transactional way," says Troska. "We realized if we were going to be in an authentic relationship with the community in any way, we would have to be more open and spend more time in the community. We had to share who we are if we expected others to share anything with us."
The foundation didn't use the word transparency much. What they did talk about was building authentic relationships within the community, and how to do it.
These types of relationships are newer to philanthropy, he says. Philanthropists have historically been more directive, and less in the role of listener. "We realized we needed to stop talking and authentically listen. That's how we built relationships. We were transparent about our guiding values and that we wanted to be in true partnership with the community. Even using the word partners as opposed to grantees intimates a different way of being."
He remembers a time when a group of community leaders said to foundation staff: "If you aren't ready to come in and be vulnerable with us, then don't come in at all."
That was a wake-up moment, says Troska. "We found we couldn't go in and out—we had to go all in with the folks connected to our mission. We had to learn to be vulnerable."
What's Working
First, foundation staff assessed themselves individually and as an organization using a tool called the Intercultural Development Inventory assessment. "We needed to understand how we show up in the community when it comes to race, diversity and equity—what are the biases and lenses we bring, how much space do we take up based on our level of privilege, and how can we, as a predominantly white staff, authentically work in a persons of color community? Understanding this was an important first step. It showed us who we are, what we needed to do differently, and what types of behaviors we would need to start to practice."
"Next, we had conversations with anyone who would talk with us: community leaders, faith leaders, teachers, principals, students, business leaders, and more. We asked them: what are your hopes, your dreams for your community? What do you most want for this community?"
"Then? We listened."
This wasn't always easy or comfortable. Troska remembers a moment at a community meeting when an angry leader shouted at foundation staff. "Who are you to be in our community, she said. We knew we needed to sit there and listen. And we came back the next week, and the next week, and listened more. We could have gotten defensive or run away. But we stayed and practiced a set of skills and actions that helped us show up differently."
"We now have a strong set of allies—folks who want to be a part of the work we're doing. A new set of leaders emerged from those conversations we had early on. We're now seen as a more trusted partner in the community, all because of the work we did to be more open to what the community had to say."
Lessons Learned
Authenticity and transparency go hand in hand, says Troska. It requires a different set of skills to do it right and well, and it takes time and effort.
Because the foundation makes fewer grants, it gives them the time to develop these deep relationships, says Troska. "We're not caught in a cycle of proposals and all the fishing that goes on. We only provide funds to organizations and efforts that we've gotten to know well. That opens up time for us to be in relationship with folks, because they aren't spending time trying to convince us that we should fund their ideas."
The end result is improved grantmaking and more impact, says Troska. "It's grantmaking that we worry less about. Because of the relationships we've built and connections we've made, we have trust in such a way that when grants are made, we know good work is getting done."
Is it board or staff that initiates transparency practices? It depends on the foundation, and the answer can be either or both. At The Jay and Rose Phillips Family Foundation of Minnesota, it was the staff that initiated the conversation, but with trustees who wanted to make a real difference in the community. They trusted the staff knew what was best to get the work done effectively.
"Building authentic relationships with grantees started at the staff level," says Troska. "This was a somewhat new way of thinking for the board. The fallback position of philanthropy is to take charge. A couple of times, our trustees said to us 'just do it,' and we said 'we can't just do it—we have to do it in relationship with the community.' This was a watershed moment in our internal relationships. The trustees challenged us at times, and we challenged them back," he says.
This kind of open conversation—even mutual challenge—between board and staff can bring new growth. "In our case, it helped that staff leadership had been with the foundation a long time," says Troska, "and had already earned the trust of board members." It allowed us to have a more transparent exchange internally, he says, that ultimately led to more transparency and trust externally.