Second Generation: The Daughters of an Early Microsoft Employee Explain Family Giving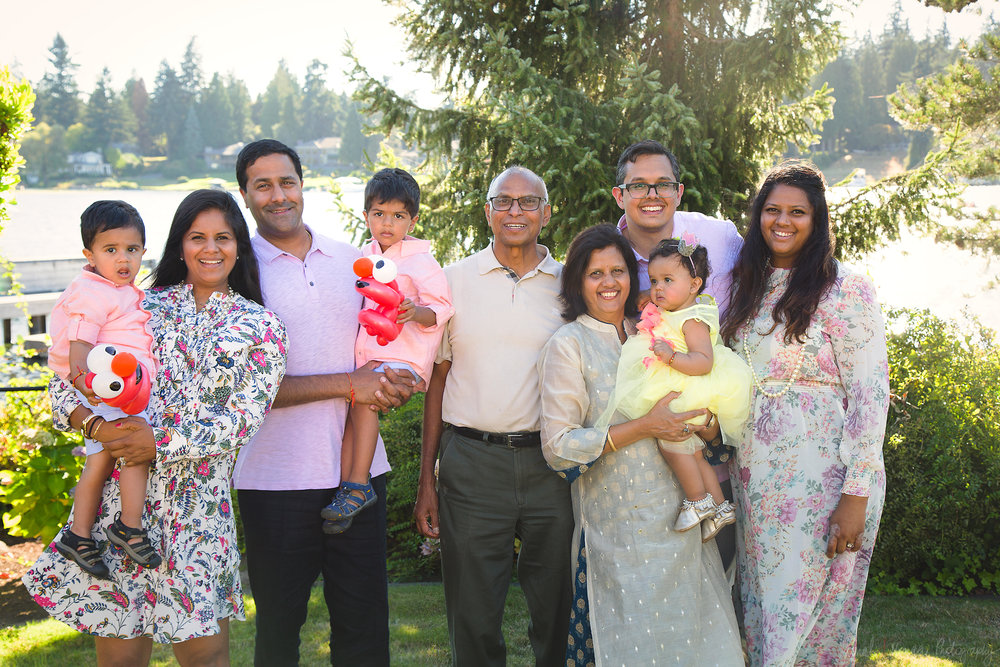 Editor's Note: This article was originally published here by Inside Philanthropy (authored by Ade Adeniji) and is reprinted with permission.
---
Born and educated in India, Rao Remala came to the United States and joined Microsoft in 1981. He reported directly to Bill Gates and worked on many of the company's best-known products, including Windows 1.0, Windows 2.0 and Office 95. Rao Remala and his wife Satya first established a donor-advised fund at the Seattle Foundation, and in 1998, a family foundation called the Satya and Rao Remala Foundation, which gave away around $581,000 in a recent year.
These days, like other families we've profiled, philanthropy has shifted to the next generation, and the couple's daughters, Srilata and her older sister Srilakshmi, manage the day-to-day operations of the Remala Foundation. I recently spoke with the Remala sisters to find out more about how the family's philanthropy has evolved and deepened through the years, and its current two-pronged focus areas of education and health.
This is a philanthropic story, but it is also an immigrant story. Rao and Satya Remala grew up in India; Remala was raised in a small village. But through education, he empowered himself. "Our parents are very giving people. They recognize how they got to where they are, and are very humbled by that experience," Srilakshmi explains. "Through luck and hard work, my dad had the opportunity to work for Bill Gates and Paul Allen in the early days, and was one of the first 50 employees at Microsoft, one of the first immigrants, and first South Asian hire," Srilata adds.
When Rao and Satya Remala started giving through the donor-advised fund at the Seattle Foundation, the couple initially had the goal of donating to places they had come from and from which they had benefited. Their local Seattle community was an interest, but so was their native India. The Remalas found giving through an administrator to be useful and instructive for a time, but ultimately decided that they could better achieve their aims through a family foundation. "At that time, it was harder to give grants and do work in India, which was a core interest of our parents. However, we still have our donor-advised fund, since we see the value in a local-based expert," Srilakshmi says.
These days, the foundation is driven by change they want to see happen locally and internationally, with Srilata serving as director of health initiatives, and Srilakshmi as director of education programs. "We sort of divide and conquer," Srilata explains. Armed with public health and healthcare policy degrees, Srilata worked at companies like Deloitte and recently launched the Maternal Coalition, whose goal is to make sure that all new mothers have access to just and equitable care. Srilakshmi is strongly engaged in the education space and is currently developing an app called Attain for Students, which is focused on helping first-generation and older college students stay focused and ultimately improve college retention and degree attainment numbers.
Srilakshmi emphasized throughout our conversation that one's zip code shouldn't determine one's educational outcome. This animates her work on the education side of the foundation's work, which is focused on building education pathways from cradle through college. The family is particularly interested in educational equity, locally in the Northwest, nationally, and also India, where they focus on some other key work. "How do we promote great outcomes for various minority and immigrant groups, as well as women, when it comes to things like STEM fields?" she asks.
Through the years, the foundation has been strongly involved with the Technology Access Foundation (TAF), founded in 1996, which aims to improve access to educational and career opportunities for children of color. TAF is headed up by Trish Millines Dziko, co-founder and executive director, who worked at companies like Computer Sciences Corporation and Hughes Aircraft Company. She also worked at Microsoft at the same time that Rao Remala was there. Frustrated by the lack of diversity in the tech sector, Trish left to launch TAF with her spouse, Jill Hull Dziko. "Before STEM was even a big thing, TAF focused on giving access to brown and black kids in South Seattle and South King County area. Programs have grown a huge amount since we started working with them," Srilakshmi tells me.
The Remala Foundation also funds scholarship endowments at universities where the family has a personal connection, including Seattle University, University of Washington and Carnegie Mellon University. The Remala Family Foundation Scholarship at Seattle University, for instance, supports undergraduate students pursuing a STEM-related major within the College of Science & Engineering. At Carnegie Mellon, meanwhile, the family supported a new computer science building; they've also supported health systems work with which Srilata was involved during her time at Carnegie Mellon, and which was a driving factor in her passion for equitable healthcare.
The Remalas are also high on another grantee, Rainier Scholars, which runs a 12-year program that offers a pathway to college graduation for low-income students of color. "It's a proof point that you can have high expectations for first-generation students to go to high-caliber schools and have rigorous intensity and rigorous standards for all," Srilakshmi says.
And abroad, some of the family's education work in India involves long-term support of Pratham, a leading education NGO in India. "They work with everything from early learning and vocational training, to ensuring that kids attending school are getting measured in terms of educational outcomes and not just attendance," Srilakshmi says.
In the local health space, the Remala Foundation has granted organizations like Open Arms Perinatal Services, Odessa Brown Children's clinic, and other community based organizations in Seattle. Their goal is to invest in organizations that are providing health services to the highest need, and most underserved communities. They hope to build up the local healthcare portfolio even further and through the Maternal Coalition build partnerships around and focused on reproductive justice and children's health.
Globally, in 2015, the foundation funded Splash, an organization focused on WASH techniques. Srilata says, " We wanted to contribute to Nepal recovery efforts but we wanted to do something that we knew was sustainable. We funded fixing a water system at a school and Nepal and received pictures and letters form the kids who were so thankful for the clean water. With that relationship, we have funded more water systems in Kolkata, India at the local public schools. While it's not a large grant, it's measurable and sustainable. We continue to give on a yearly basis to Splash." The family also recently gave a sizable grant to build a health clinic in India through 30/30 Project and Construction For Change. The goal of the clinic is not only to treat the underserved, but also to create economic opportunity by training community health workers.
While health and education are the foundation's main focus areas, Remala also funds the arts. They've started to work with The Residency, a collaboration between Arts Corps, MoPOP, and Macklemore & Ryan Lewis that began in 2015 and primarily serves low-income youth in Seattle. Srilakshmi, whose husband is in the arts, calls this work "exploratory."
"We're going out of our comfort zone a little bit. But the lens is still centered around equity, in this case, access to the arts. This has pushed us," she says. "I'd love The Residency to map back to what students are doing after. These youth development skills are critical, and you can have a successful life even if it's not in a STEM career. What's happening to these kids after, though, is something we want to know and need to know. These are things we're trying to poke at and ask questions about. We try to be very data-driven in that way."
Compare the family's new work with The Residency to their longtime work with United Way of King County, where Rao Remala serves on the board of directors. "It's been a great learning lesson," Srilata says, "What kinds of organizations do we want to get our hands into? The legacy for my dad is that he was able to get in his hands dirty with an initiative called Reconnecting Youth Program, which helps incarcerated youth and youth who may have fallen through the system's cracks get their GEDs. The good thing is that it allowed my dad to be very strategically involved in this initiative and look at it from scale around the whole region."
However, much as the family did with their donor-advised fund, as the Remalas refined and deepened their focus areas, they increasingly put their priorities elsewhere. Srilata explains: "We wanted to dive deep into helping communities of color and embrace the problems that they can own and solve with financial help. Large backbone organizations sometimes operated for us like a passthrough organization. Now, we feel comfortable doing smaller seed grants and identifying where the gaps are, instead of using an organization and saying a lump sum of money can go toward this cause or that cause."
The Remala sisters are open to organizations reaching out and say they will always take a look and see if a conversation is worth having. Still, they don't want to waste people's time. "I'm very honest if it's going to be an area we're not going to invest in. Seattle, for instance, is huge in climate change, but that's just not a focus for us right now," Srilakshmi says.
I closed our conversation by asking Srilata and Srilakshmi about their biggest hopes for their foundation in the coming years. Srilata tells me that she hopes her own work through the Maternal Coalition will tie back into the foundation's work: "Because we've built up such great networks and we are really well informed by the communities we serve, I think we have the ability to be leaders in some of this stuff. It would be cool to see more spin-outs or ideas that get fostered within our foundation that we provide seed dollars to, or get off the ground, especially in healthcare and health systems work. There's always some new great idea, and being able to fund those to get them to where they want to be is really interesting."
Srilakshmi, spearheading education, says she wants the foundation's focus on equity to deepen. "We need to scale good practices. There've been bright spots, but how do we scale them? I want to scale great work and help bring new innovative ideas to the table."
Rao Remala will soon host a home event to support a local Seattle-area hospital. He's particularly keen on trying to get as many South Asians in the room as he can. "This is the core of what dad believes in. If he can encourage other people, particularly other South Asians, or people with similar immigrant story, if he could be a model for that—this is key," Srilakshmi says.
As one half of the next generation of Remala family philanthropy, she echoes similar sentiments of responsibility and leadership: "Our parents are immigrants. We are people of color. Seattle is amazing and liberal, but not very diverse, especially in philanthropy. We are always the women of color in the room or the voice of a younger generation in philanthropy. We're sort of pushing the boundaries of what philanthropy looks like."