Get Rid of the Go-Between: Jacobs Family Foundation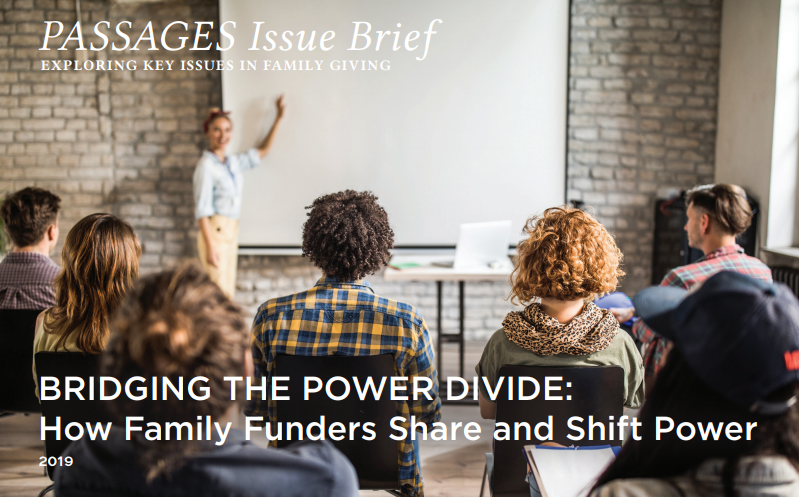 As a family funder, how can you acknowledge and responsibly navigate the power of your position? How does the power and privilege you hold affect those you interact with and support? How can you use your power for good—to make lasting impact?
This Passages Issue Brief features stories, perspectives, and practical tips on power, and suggestions for how family funders can work toward bridging the power divide with grantee partners and the communities they care about. Enjoy this excerpt from Bridging the Power Divide: How Family Funders Share and Shift Power, featuring the Jacobs Family Foundation.
---
The Jacobs Center for Neighborhood Innovation, part of the Jacobs Family Foundation, doesn't give grants. "My dad, Joseph 'Joe' Jacobs, felt strongly that charity is demeaning: it sets up a power situation, whereby the person giving has the power, the person receiving has no power," says Valerie Jacobs, board member of the Jacobs Family Foundation in San Diego, and principal of Valerie Jacobs Consulting.
"Instead of grants, we work in direct partnership with low-income neighborhood residents to improve their neighborhood." This takes a comprehensive approach, she says. "Funders often come in and do one thing—such as focus on jobs, or education. Yet, if you want to provide jobs, you also have to think about childcare, healthcare, training, and education. Communities don't work in silos. We can't either."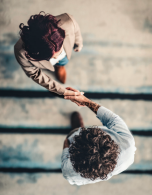 Taking a different approach to philanthropy, the foundation focuses on resident engagement and economic development, using its entire asset base and leveraging funds to build new housing, businesses, and retail stores in these neighborhoods. The foundation has purchased more than 60 acres of land, and with residents, created a community plan that supports longterm and meaningful community change.
The board knew in order to truly partner with communities, they would have to themselves become part of those communities. "We moved our foundation into an undeserved community, which made a big difference in our work. It allowed us to see the conditions that people live with every day and the multitude of issues that affect their lives. We couldn't do what we're doing from anywhere else."
To start its work, staff knocked on resident doors to hear directly from people what they wanted to change. "We didn't want to assume what they needed. We involved residents in the work and decisions from the very beginning, engaging residents to work with us, next to us—not us doing it 'to them'."
Has it been easy, as outsiders coming in? Not in the least.
"It's been rough. We've been in the community for 25 years, and still, the trust is tenuous. Community members have good reason to doubt our intentions. To them, we look like another group of white developers, who—in the past—have come in, taken their money, and left. The community has been burned too many times."
Previously, we held meetings at our offices, and we realized people resented that. Now we go to where they are."
It's a learning in progress, she says. "We try to be as open and transparent as possible. We attend community meetings to hear what their concerns are. Previously, we held meetings at our offices, and we realized people resented that. Now we go to where they are."
In 2025, the Jacobs Center for Neighborhood Innovation plans to sunset—turning over all its assets to community control. "We are transferring wealth to the community, all that we developed, making sure it is cash flowing, so that the community can use that money to be philanthropic in their own neighborhoods," says Jacobs.
To start the transfer process, the foundation has filled three seats on its board with community members, giving them equal authority as board members. "It's been a great learning experience for us as a board. They are our 'ears to the ground'—our conduits to the community. We include them in every decision we make."
"It's important to recognize what grants do in terms of maintaining the power dynamic. If possible, consider how you might directly work with the people you want to serve, without a nonprofit as the go-between," she says. "Give people direct access to your foundation so they can get to know you as people and not dollar signs. You can find out what's really important to them instead of deciding that for them."