The Art of Working Together at Our Family Foundation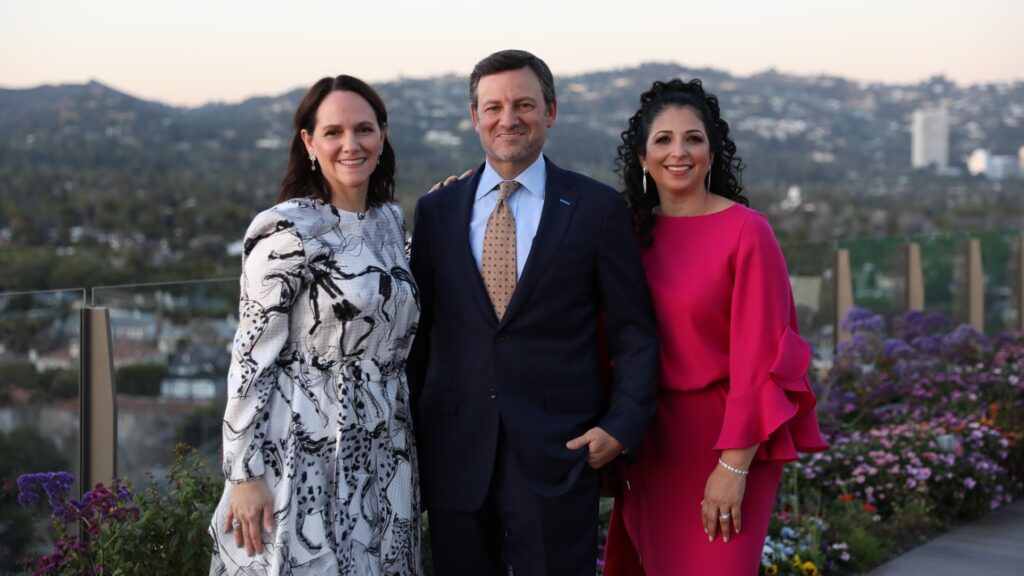 Courtesy of the Ruderman Family Foundation. From left to right is Sharon Shapiro, Jay Ruderman, and Shira Ruderman.
"Do not go into business with family." It is a common warning—and we could not disagree more.
Our personal and professional worlds collided 20 years ago when we became sisters-in-law and, later, colleagues at the Ruderman Family Foundation. Growing up, both of our families prioritized Jewish values such as charitable giving and repairing the world through social action. When we joined the foundation, giving transformed from a personal passion to the professional pursuit of making an impact through strategic philanthropy.
This journey has not come without its emotional and difficult moments. Yet working together as sisters-in-law in the philanthropic sector has proven to be a fulfilling path which has enriched our lives and careers. Over the years, we have identified four practices that have helped foster a strong professional and personal partnership.
Purposeful communication
Communication is arguably the greatest key to working with family. Purposeful communication has entailed defining roles and division of work within the foundation, in order to complement and amplify each other's unique strengths, skills, and expertise.
Undoubtedly, communication can be challenging when family dynamics are brought into the workplace. Where family foundations can go astray is by making decisions solely for the sake of family harmony. In order to avert that pitfall, we dedicate structured time and space within our schedules to discuss philanthropy in a way that does not overlap or interfere with our personal lives. We hold these conversations at weekly in-person meetings, preferably in an office setting.
Through this thoughtful division of roles and responsibilities, we can work more efficiently for the foundation. Although it is impossible to completely separate family and professional matters, carving out dedicated time for business establishes a paradigm for success in the workplace, even if at times the separation is artificial.
Keeping it professional
It is crucial to be professional and strategic in the workplace, even when you are working with family. When proposing a new partnership for the foundation, each of us comes to the table with the essential information surrounding how the potential partner operates and how that organization aligns with the foundation's strategy. In the context of launching new partnerships, our process contains both mutual and individual elements.
By definition, running a family foundation requires balancing individual and collective interests. We work with trustees as individuals, identifying their passions, values, and skills, and matching those aspects with their individual involvement at the foundation. At the same time, we as a family work as a unit when it comes to major issues that we are investing in. We emphasize the relationship between individual issues that trustees can choose to be involved with and the broader efforts of the foundation.
It is important to maintain the conversation within our family regarding values, legacy, and a multigenerational dynamic, while making sure to create alignment between individual roles at the foundation and the overarching way that we conduct business as an organization.
Leading by example as parents
Our work with the foundation is shaped not only by our relationship as sisters-in-law, but also by our respective roles as mothers. Working in philanthropy means that we lead by example, modeling for our children the values of giving, humility, and responsibility.
As both executives for the foundation and lay leaders for different causes, we value staying grounded and focused; and relating to colleagues (including those who are family members) on a personal level, while simultaneously maintaining the professionalism to make strategic decisions.
Working at the foundation has provided a powerful opportunity to educate our children and impart our most important experiences to them. We hope that our children will eventually bring these same values and practices into the workplace as well as to their volunteer initiatives and charitable giving, whatever path they choose.
Working as women executives, especially in philanthropy, is another way of leading by example as parents. The future of global wealth is trending toward the hands of women. According to the Boston Consulting Group, between 2010 and 2016, private wealth held by women grew from $34 trillion to $51 trillion — an increase of almost 50 percent in just six years. At the same time, while women are closing the gender gap in senior leadership positions in the workplace, that particular change is occurring at a slower rate. The proportion of women in senior management roles globally grew to a record-high 29 percent in 2019, but that percentage remained the same in 2020, Catalyst found. Through our leadership roles at a foundation, we set an example for our children that in the realm of women's empowerment and advancement, the future is now.
Elevating the relationship
When a working relationship between family members is strong, relatives can see one another in a different light and show respect to each other in new ways. We would have never had that opportunity if we did not work together. Professional harmony among family members, in turn, can improve the personal relationships between the same individuals.
Ultimately, while the personal and professional worlds do collide at family foundations, implementing thoughtfully designed systems and practices can help ensure that such foundations maintain a focus on strategic, maximally impactful philanthropy.
Shira Ruderman is Executive Director of the Ruderman Family Foundation.
Sharon Shapiro is Trustee and Community Liaison for the foundation.
---
The views and opinions expressed in individual blog posts are those of the author(s) and do not necessarily reflect the official policy or position of the National Center for Family Philanthropy.