Coming Together for the Greater Good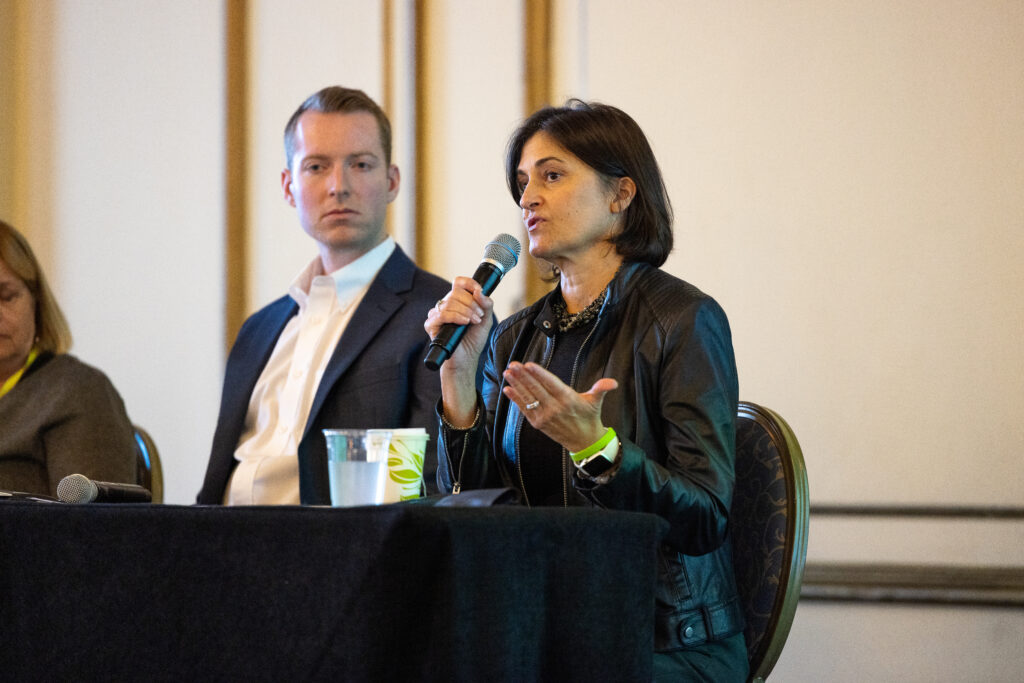 Editor's Note: This article was originally published in Concinnity, an annual newsletter for the Andrus Family Philanthropy Program, and reposted here with permission.
In the more than 20 years since the Andrus Family Philanthropy Program was created, the program and the Andrus Family Fund have grown and evolved. Learn about the ways that the program serves as a model of family engagement and how democracy and racial equity have become core areas of work.
---
In 2000, with bold ideas anchored by John Emory Andrus' philanthropic beliefs and his emphasis on the bond of family, a group of fourth-generation Surdna Board members created the Andrus Family Philanthropy Program (AFPP). The goal of the program was simple: to engage future generations of the broader family. Along with AFPP, the Andrus Family Fund (AFF) was simultaneously launched to provide opportunities for younger family members to learn about and participate in organized philanthropy. Over time, AFPP and AFF have matured and evolved to meet the family's and Surdna's ever-changing needs, but the heart of the programs remains consistent: to bring together Andrus family members for the greater good.
One of the AFPP's main goals is not only to foster a sense of philanthropic values and inspire service within the Andrus family but also to meet people where they are in their philanthropic journey and provide varied opportunities for engagement. Former AFPP Chair and Surdna Board member Kelly Nowlin (fifth generation) understands the importance of this better than most. "We've created family programs that invite all family members to learn about social justice, to have dialogue across differences, and to reflect on their own lived experiences. That can sometimes be challenging, but we don't shy away from it. We've encouraged all family members, at any age, to discover what their calling is and get involved," Kelly shares.
Since its inception, the AFPP has earned national recognition as an innovative and intergenerational family engagement program. For years, the AFPP Committee has placed social justice at the center of its initiatives. Committee members share a deep appreciation for Surdna's role as a leading family foundation, and they work tirelessly to connect Andrus family members and inspire them to get involved in the Foundation's work. As Kelly turns over the AFPP Committee to Cameron Griffith after 12 years, she believes that the family program will continue to be a model in the field of family philanthropy as it advances Surdna's social justice mission. Her hope for future generations is to engage in the AFPP's programming and have as transformational a learning journey as she did.
Building a More Inclusive Family Program
Two years ago, as the AFPP celebrated its 20th anniversary, the program underwent a strategy refinement and identified inclusivity as one of its four guiding principles. This summer, the AFPP Committee recruited new members and for the first time, board representatives from Andrus on Hudson, Andrus Children's Center, and a recent participant of the Board Experiential Training Program (BETs) are included on the committee. The newly expanded AFPP Committee will help foster a community of learning, engagement, and connection across generations of the Andrus family and its philanthropies.
Additionally, many thoughtful and intentional steps have been taken within the AFPP's offerings to be more inclusive of the entire family. The Social Justice Series was created to amplify voices and provide a space for family members to learn about specific social justice topics and respectfully engage with one another while learning about Surdna's work.
New programs, like BETs 2, were created to offer engagement opportunities to age groups that did not previously have programs available to them. Additionally, an Alumni Program will launch in 2024 for AFPP participants to remain connected to the family, its philanthropies and history, and learning and public service opportunities.
A Model of Family Engagement
Since he joined the Foundation in 2018, Surdna President Don Chen has embraced the AFPP and centered the family programs in Surdna's ecosystem and culture, allowing the family to better share its story and lessons learned with other family philanthropies. In 2019, Surdna created a new position and for the first time in its history, the AFPP had a full-time staff person dedicated to philanthropy. Since then, Surdna's Senior Program Officer of Philanthropy, Sophy Yem, has expanded the capacity of the AFPP in a way that didn't seem possible before.
It's because of programs like these that Surdna has become a trailblazer and a model of family engagement in the field of family philanthropy, and the Foundation is eager to share its trials and successes with others. One of the ways Surdna does this is by connecting to other family foundations through the National Center for Family Philanthropy (NCFP).
NCFP is a network of philanthropic families committed to creating a vibrant, resilient, and equitable world by equipping family philanthropies with community, support, and resources to strengthen their overall ability to effect meaningful change. Nick Tedesco, President and CEO of NCFP, has partnered closely with Surdna for over four years and has seen first-hand Surdna's impact on the field.
"It's inspiring to see so many families, like the Andrus family, who are embracing the commitment to put their wealth back into the greater community with the full acknowledgment of the power and privilege they hold," notes Nick. "Surdna has many points of entry for family members to engage in philanthropy on their own terms when they are ready. In family philanthropy, it's often expected that the next generation learns from the elder generation. That does, in fact, happen at Surdna, but what we also find is that the elder Andrus generation is learning from its next-generation family members…it's a true synergy across generations."
Recently, Nick has noticed some emerging trends in the family philanthropy field. He's seen more families embrace listening practices and take steps to get closer to the communities they serve. Families are recognizing the limitations of their knowledge and experiences, and they have begun inviting in voices from the community to make decisions alongside them for the betterment of those communities. Like Surdna, many families are applying an equity lens to their philanthropic work—not only by viewing 'equity' as an issue to fund but as a lens that spans across issues and is fundamental to longstanding, meaningful, and enduring outcomes.
These are necessary—and very welcome—changes to the field. "This is a historic moment for the world and for many philanthropic families. We're seeing a reflection on the purpose of philanthropy, where families pause and ask what it means to be a steward of philanthropic capital. Why are they doing this work, and for whom? They are asking the questions of what's required of them and what's expected of them as they put their capital to work for the betterment of society," shares Nick. As always, Surdna will continue to reflect and ask these difficult questions to ensure it addresses societal needs to the best of its ability.
Equity at the Root of Surdna's Work
In pursuit of a more just and equitable democratic society, Surdna has challenged itself to identify what it means to view philanthropy through an equity lens and how that translates into its program areas and work. Two guiding principles underpin its grantmaking. The first is to address the root causes of inequities, rather than the symptoms, that prevent people from participating fully in society and prospering. The second is that the community members who are most affected by inequities must be part of decision- and policy-making that shape their future. One way Surdna has done that is through its Inclusive Economies Program, which believes that everyone's economic well-being improves when all communities are empowered to participate on equal footing. The program hopes to elevate communities of color across income and class, through concentrated strategic grantmaking, program-related investments, partnerships, and field building.
"I think we have tremendous opportunity in this moment to unlock really great potential by connecting and conversing across sectors." — Patrice R. Green, Surdna's Director of the Inclusive Economies Program
Patrice R. Green, director of the Inclusive Economies Program, spends her days working toward these goals. She guides Surdna's grantmaking to expand access to quality jobs and build wealth for communities of color across the nation while supporting their full participation in the economy and democracy. Patrice also leads Surdna's Democratic Participation work to ensure communities of color and low-wealth communities have decision-making and political power.
"Over the last few years, some core functions of our democracy have really struggled," reflects Patrice. In support of democratic participation, Surdna is engaged in work around the next United States Census in 2030. Patrice shares, "We recognize that if the way we count people and apportion dollars from the federal government is not equitable to start with, then all of our grantees must work harder because the basic needs of the communities they serve are not being met. We also support policy work to help remove state preemption—the use of state law to override a more local ordinance or authority—and ensure the local electives closest to their communities' issues are able to make decisions."
Our country's recent struggles have magnified the need for Surdna's work. Though it can be daunting, Patrice is encouraged by the fact that Surdna was already in partnership with many on-the-ground organizations doing the critical, front-line work needed in underserved communities in the last several years. She credits that to Surdna's journey to center racial equity in its work. There is still much work to be done, but Patrice is optimistic about the future.
"Several leaders from both new and existing grantee partners have moved into government administrations. We have the opportunity to converse with them about racial equity and what it means for us to be holding and shifting democratic power in ways that we haven't had in the last few decades, if ever," shares Patrice.
"Democratic Participation shows up in multiple ways in our work. It's not just about how we vote—it encompasses so much more. We ask ourselves: How are we helping folks be fully present and giving them agency within communities and systems? What are the systemic barriers that keep certain populations from participating in our structured democracy? Surdna has leaned into the understanding that the ability for folks to participate in our democracy is critical to reaching our ultimate goal of just and sustainable communities."
A Broader Look at Democratic Participation
Rakim Brooks, CEO of Alliance for Justice (AFJ), a progressive group committed to the creation of an equitable, just, and free society, works toward a more equitable democracy every day. AFJ has two main areas of concentration: one is representing non-profits that are engaged in the process of social change; the other is a justice program through which AFJ educates people on the role of courts in society and conducts research, education, and outreach around judicial nominations at the state and federal level.
"In the face of difficulty, I try to remember that there are more people who believe in democracy than who don't. We might disagree on the particulars, but most people believe that their fellow citizens should have the same basic human rights as they do." — Rakim Brooks, CEO of Alliance for Justice
AFJ has 151 member organizations, ranging in size, geographic location, and area of focus. "I think of our broad association of organizations like a woven fabric. The organizations cross and weave, and it's at these intersections that tight bonds can be formed to make the strongest possible fabric," Rakim says. "AFJ's hope is to create a forum through which our members feel supported having conversations about their work, so they can share opportunities and leverage resources to maximize their success in creating social change."
Surdna has primarily supported AFJ's Bolder Advocacy program, which provides workshops and technical assistance to help nonprofits make the case for their causes and reach the right audiences to bring about positive, lasting changes in their communities. Rakim shares, "Surdna instinctively understands that the people closest to the problem are also closest to the solution. Surdna recognizes that lack of action is not because of a gap in experience, expertise, or influence but simply a gap in the ability and resources to speak with legislators. And that's where we come in."
Alliance for Justice is invested in determining the barriers to bringing people together and the best ways to overcome those barriers. It isn't always easy, but Rakim thinks it's possible. He believes that every country in the world has a more conservative group of people and a more liberal group of people because human beings have differences of opinion. The real power is in bringing people with different ideologies together.
"In the era of social media, targeted news outlets, and misinformation, it's easier than ever to feel affirmed and find support for a wayward idea without it being moderated by the people around you. One of the main reasons to bring people together is to break up homogeneity and facilitate conversations to moderate opinions. And that is true of folks on both sides of an issue," says Rakim. "The best way to fight misinformation is also the hardest way—by building trust. We need trusted messengers of the truth in every community." Building trust is difficult, but it's a critical step in the path to upholding democratic ideals in our country.
"The underlying point of democracy is a recognition of the fundamental equality of human beings," Rakim notes. "Everybody gets one vote and each vote is equal. This is because, despite the circumstances into which you were born, you are equal to your fellow citizens in your right to make decisions on collective issues based on equality."
"The more extreme the positions become to suggest our inequality, the more I believe the public will respond and say: that's not who we are," reflects Rakim. Like Patrice, Rakim is also optimistic about the future. Through AFJ's work, he sees an increasing number of nonprofits wanting to engage in advocacy to protect and advance the rights of the communities they serve every day. He simultaneously witnesses growing interest in every branch of government and citizens concerned with how government functions and whom it represents.
"I've been thinking a lot about how we encourage more foundations to take an active role in social change. So, for example, I'm not only interested in how an organization thinks about itself internally, but also how it uses its voice to connect with its peers," Rakim says. "We really need to help foundations—these concentrated bodies of wealth— pursue things on behalf of society so that we can truly address the massive inequalities that exist. The only way to do that is in partnership with each other."
Rakim summarizes, "Surdna does a wonderful job of looking at the opportunities the family has been given. Surdna performs the challenging but necessary self-interrogation work. It investigates its relationship to various obstructions to equality—and then attacks them. I can't imagine a better use of the Foundation's time."
Looking Forward
Surdna is looking toward the future with a renewed sense of commitment to its principles and an eagerness to create change. Deepening its racial justice grantmaking and expanding the breadth of its impact investments will be the primary focus of Surdna's work in the coming years. Central to this work is a collaborative effort with grantees to measure, assess, and improve their impact, always asking what grantees need to grow, learn, and become more effective and how Surdna can help them. The journey forward will have challenges, but Surdna has become stronger through intentional efforts to truly come together in every sense.
---
The views and opinions expressed in individual blog posts are those of the author(s) and do not necessarily reflect the official policy or position of the National Center for Family Philanthropy.