Around each board table, there is a need to plan for the next generation and to nurture their leadership and engagement. What conditions make for successful next gen engagement and transitions? How do you empower adult family members to be involved, while also recognizing they are at a particularly busy stage of life? Learn from Ellie Frey Zagel, a next gen family member and field leader and coach, who led NCFP research on engaging adult children. Bring your own challenges during this time to connect with peers, brainstorm together, and learn from this research and interview study.
Related resources:
Ellie interviewed several next gen philanthropists about best practices for engagement. You can listen to podcasts or read transcripts from interviews with

For this interactive meeting, we encourage attendees to join with webcams on. To help foster candid discussions, peer network events are not recorded.
If you are unable to attend this event, but are interested in being a part of the Non-family Staff Peer Network, sign up here. 
Featured Speakers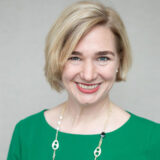 Ellie Frey Zagel
Ellie Frey Zagel is a life and leadership coach for the next generation of family business, philanthropy…
View Profile