2016 U.S. Trust® Study of High Net Worth Philanthropy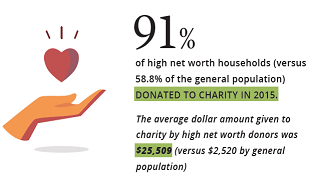 The 2016 U.S. Trust® Study of High Net Worth Philanthropy examines the giving and volunteering trends, behaviors, attitudes, and priorities of wealthy American households. Since 2006, this study has been written and researched in partnership with the Indiana University Lilly Family School of Philanthropy. This research series is the most comprehensive and longest running of its kind, and an important barometer for wealthy donors' charitable engagement and perspectives. The latest study once again offers valuable insights that help inform the strategies of nonprofit professionals, wealthy donors and charitable advisors alike.
The sixth in this series of biennial studies is based on a nationally representative random sample of wealthy donors, including, for the first time, deeper analysis based on age, gender, sexual orientation and race. This expanded methodology enables further exploration of the philanthropic trends, strategies, and behaviors among the high net worth population. The following is a summary of key findings from the full 100+ page report. Results are based on a survey of 1,435 U.S. households with a net worth of $1 million or more (excluding the value of their primary home) and/or an annual household income of $200,000 or more.