National Center for Family Philanthropy Strategic Direction
The strategy of the National Center for Family Philanthropy (NCFP) balances hope for better futures with practical guidance on making philanthropic practice more effective and equitable. We developed this strategy following deep conversations with the community and learning about your experiences, needs, and lessons on what works. We have learned where you face challenges, and we have a greater understanding of how you engage communities and grantee partners committed to navigating the changing world. We know that you are facing crucial choices that will define the future of family philanthropy and the inequity that underlies all the issues we seek to address.
To support you, we will share practices that promote effective family philanthropy, work through common challenges, and learn together to strengthen our ability to effect meaningful change. As we navigate individual journeys of reflection and transformation, we lean on our shared commitment to equity and see the results of intentional, impactful giving.
NCFP catalyzes the potential of philanthropic families to achieve greater impact with their giving by:
Elevating a bold vision for family philanthropy: We call on practitioners to be informed and intentional with their giving so communities truly benefit.
Equipping family philanthropies with community, support, and resources: We serve as a hub for learning, connection, and action.
Activating a network of philanthropic families: We engage families who are motivated and equipped to make a difference. Our applied learning approach ensures families not only have resources to inform decisions, but support as they take action.

Strategy Snapshot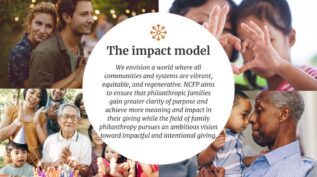 We're here to equip you with the tools you need to make a meaningful impact. Contact NCFP for support!
Keep up with trends in family philanthropy. Subscribe to our newsletter!
Gain access to personalized support and a network of peers. Join our community!