Family Governance and Family Philanthropy: A Primer for Community Foundation Staff and Donor Families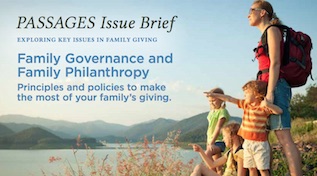 Family governance is the framework in which a family manages its joint affairs. A family applies guiding principles to general policies and specific practices for carrying out the roles and responsibilities of their joint activities, such as family philanthropy. A growing number of families are using donor advised funds and supporting organizations at their local community foundation as a core tool for supporting family governance. This Passages Issue Brief provides tips and tools for donor families and community foundation staff on developing the principles, practices, and policies needed for effective family governance.
---
NOTE: This special issue brief has been designed so that community foundations in NCFP's Community Foundations Family Philanthropy Network may co-brand for distribution to their donors and advisors. To do so, please contact NCFP at community@ncfp.org for options.