Trends 2020: Founder Involvement, Intent, & Perspectives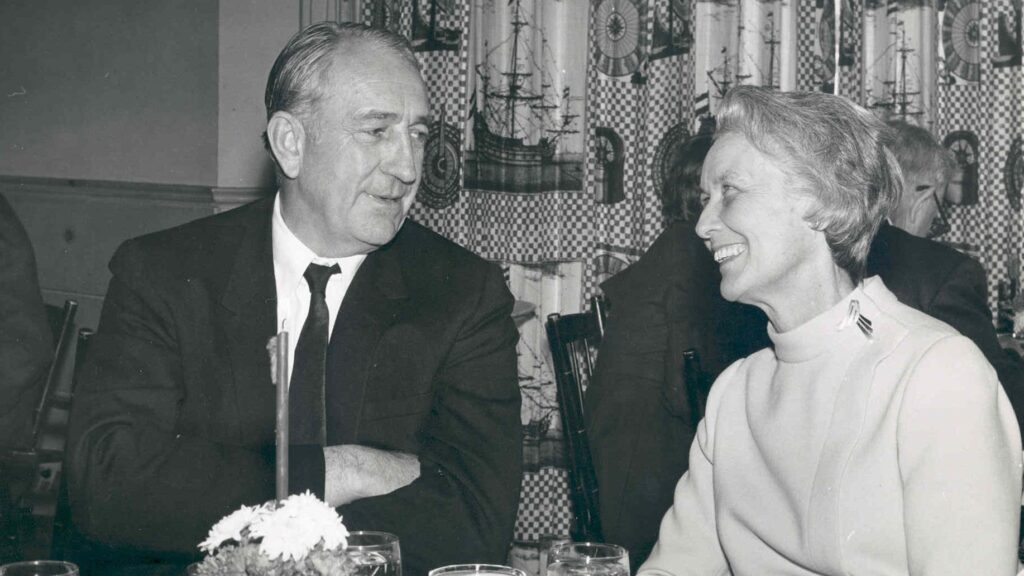 This excerpt from NCFP's Trends 2020 study shares data and analysis regarding various US family foundation giving trends, including adherence to founder intent, founder's perspective on family dynamics, founder involvement, and much more.
---
Founder Involvement
Founders remain actively involved in most family foundations, yet this has declined somewhat since 2015, from 64% to 56%.
Founder involvement is low among family foundations formed before 1990, but is nearly universal among those formed since 2010.
The smallest family foundations—as defined by asset size—are notably more likely to have an actively involved founder than their larger counterparts.


Foundations consider an involved founder to be beneficial in several ways, including the founders' ability to share their values/interests and their community connections.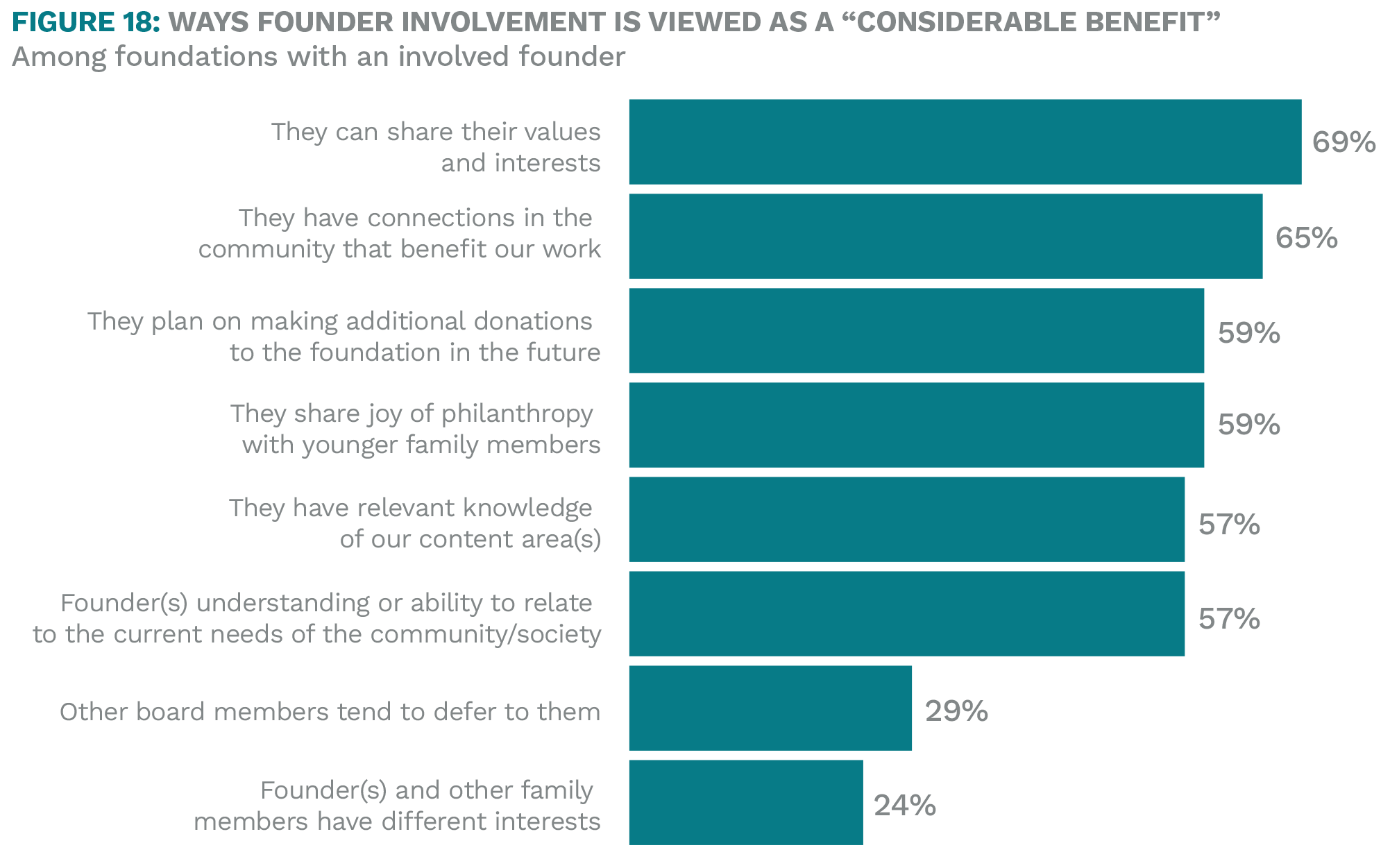 Adherence to Founder Intent
Most family foundations have a clear understanding of their founder's intent and say that they adhere very closely to that intent. Adherence is notably lower among family foundations established before 1990, but even among those, most still follow the founder's intent.
Not surprisingly, when a founder is actively involved, the foundation is much more likely to very closely follow donor intent (76%), compared to when a founder is not involved (51%).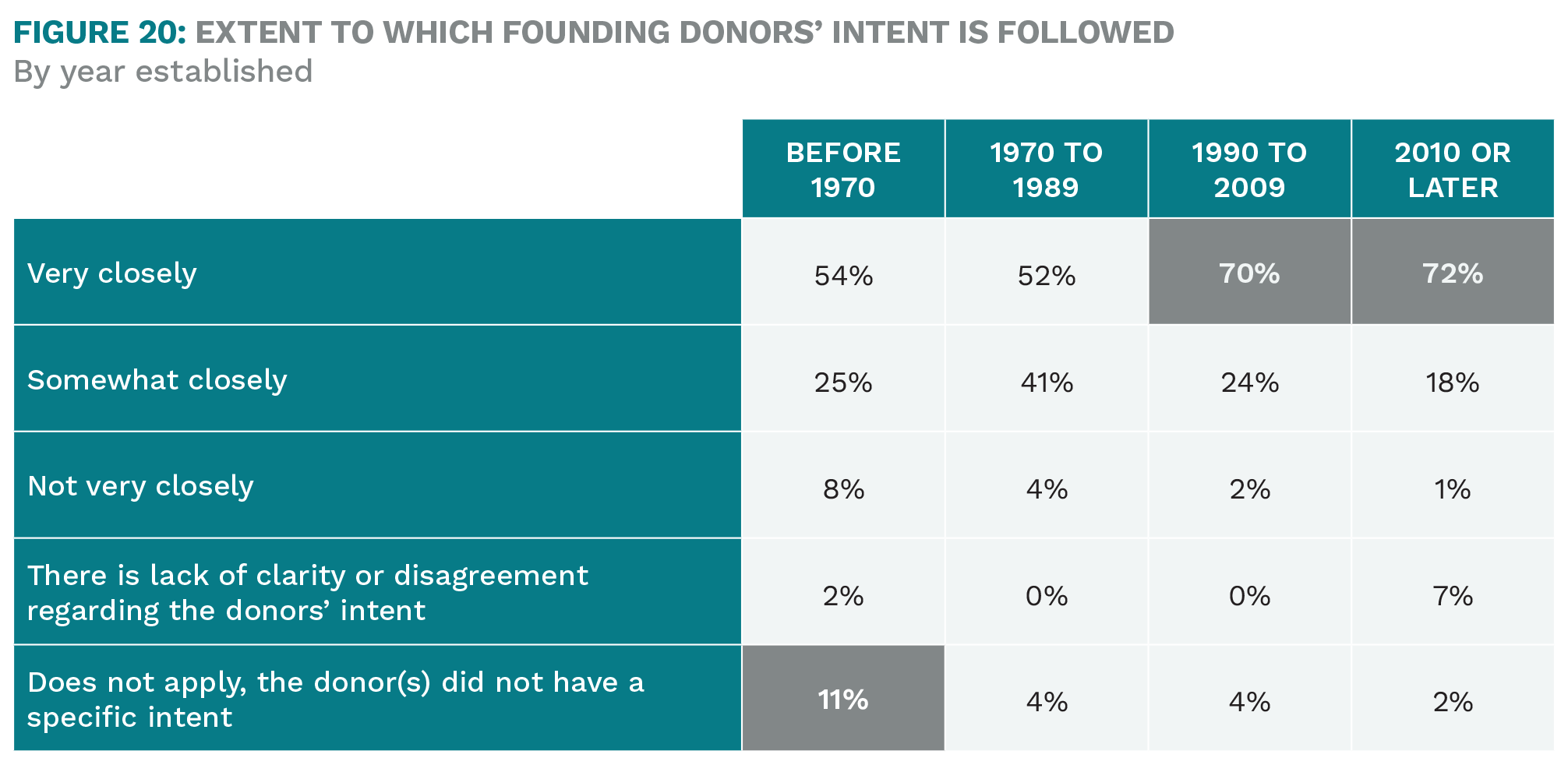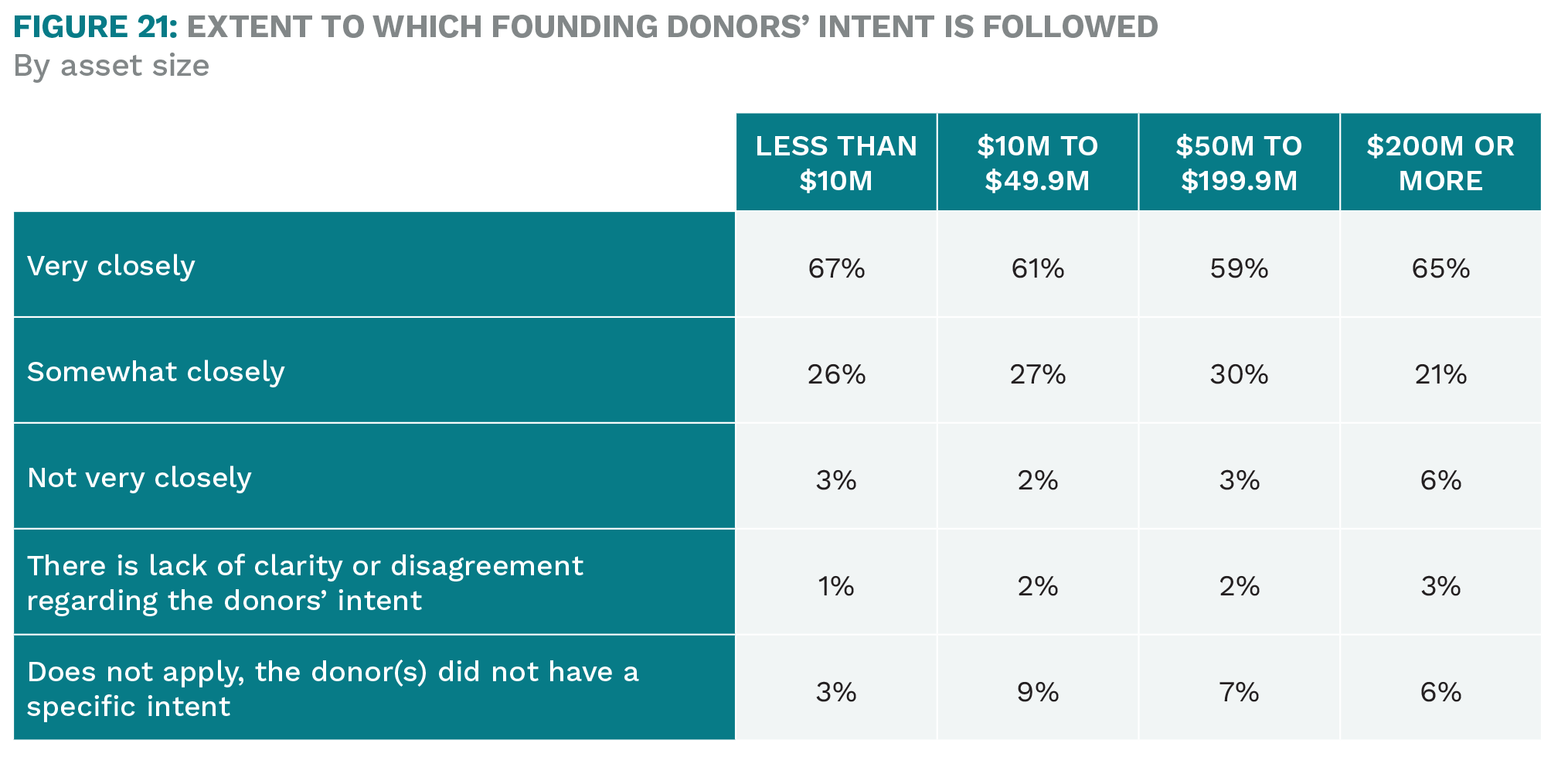 Founder Perspectives
64 family foundation founders participated as respondents to the Trends 2020 survey. 85% of these 64 founder respondents are associated with family foundations created since 1990. We can gain a useful lens into founder perspectives on many topics by analyzing differences in their responses to those of other respondents.
Founders rate higher the "benefit of their own community connections and their understanding of current community/society needs," whereas others in the foundation—paid staff, for example—are more likely to say that founders' "sharing the joy of philanthropy with younger family" is of considerable benefit.
Family foundations where a founder is still active behave differently in a variety of ways:
Foundations where the founder is actively involved are less likely to focus on geography and more likely to focus on a specific issue(s), than family foundations where the founder is not involved.
Foundations with active founders are much more likely to list education, women's issues, and poverty, hunger, and homelessness as top areas of interest, and less likely to list youth empowerment (4% to 10%) and community initiatives including arts and culture (10% to 28%).
The boards of these foundations are generally smaller and have a slightly higher percentage of family members.
These foundations are less likely to assess the role and performance of the board and much less likely to assess the role and performance of staff.
These foundations are less likely to integrate outside perspectives, and significantly less likely to communicate with outside audiences.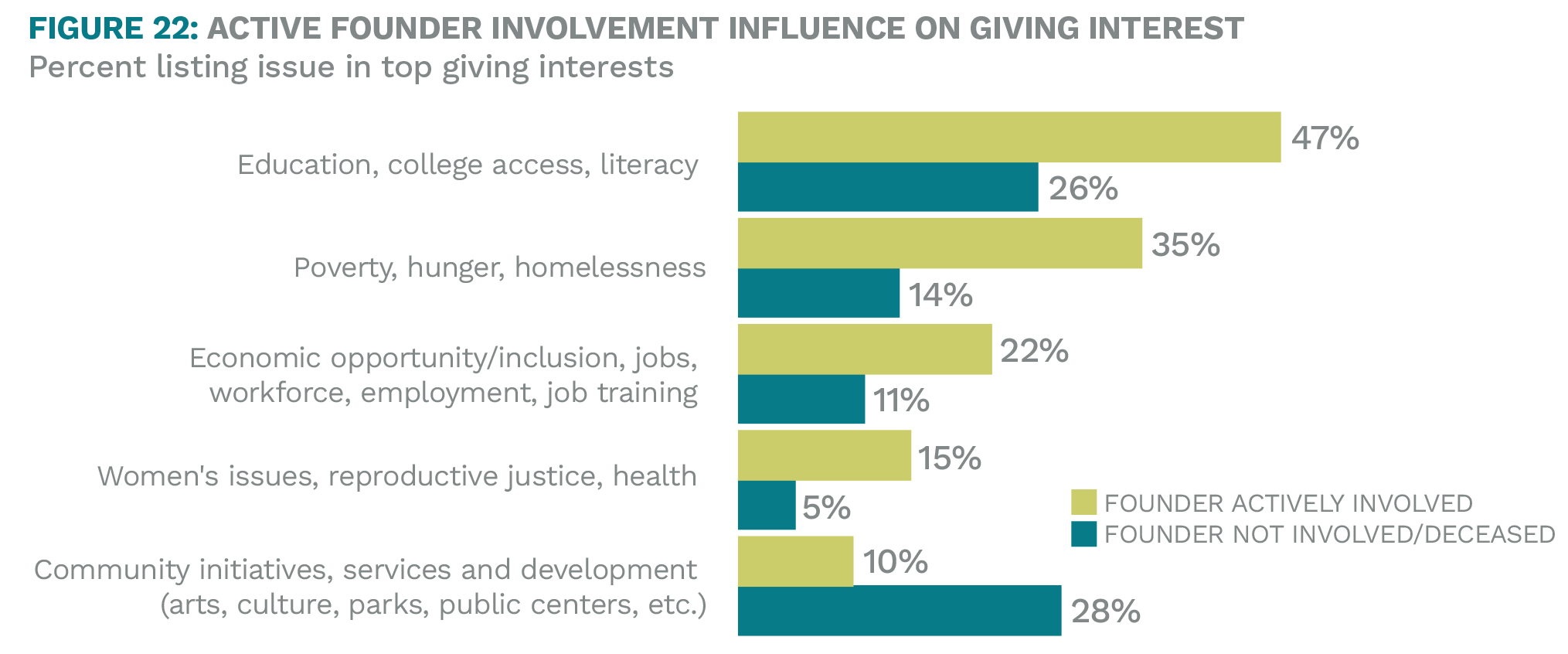 The perspectives of founders who completed the Trends 2020 survey differed with others in interesting ways, including:
Founders are much more likely to define the geographic focus of the foundation as "international," with 36% indicating this focus vs. 2% of the overall sample.
Founders place a much higher emphasis on the issue of education (60% vs. 29% of the overall sample) and women's issues (31% vs. 3% of the overall sample) and a lower emphasis on social services (14% vs. 30% of the overall sample) and healthcare (10% vs. 22% of the overall sample).
Founders are less likely to strongly agree with the statement: "the foundation is having a significant impact on the issues it supports," with 33% of founders strongly agreeing with this statement, and only 47% of all others (including staff, advisors, and other family members) strongly agreeing with this statement.
See below for additional examples of where founder perspectives differ substantially from others whoccompleted the survey.
Founder Perspectives: Donor Intent
Most founders (72%) feel that the foundation "very closely" follows donor intent. By comparison, less than half of family members (other than the founder), reported that they "very closely" follow intent at the foundation.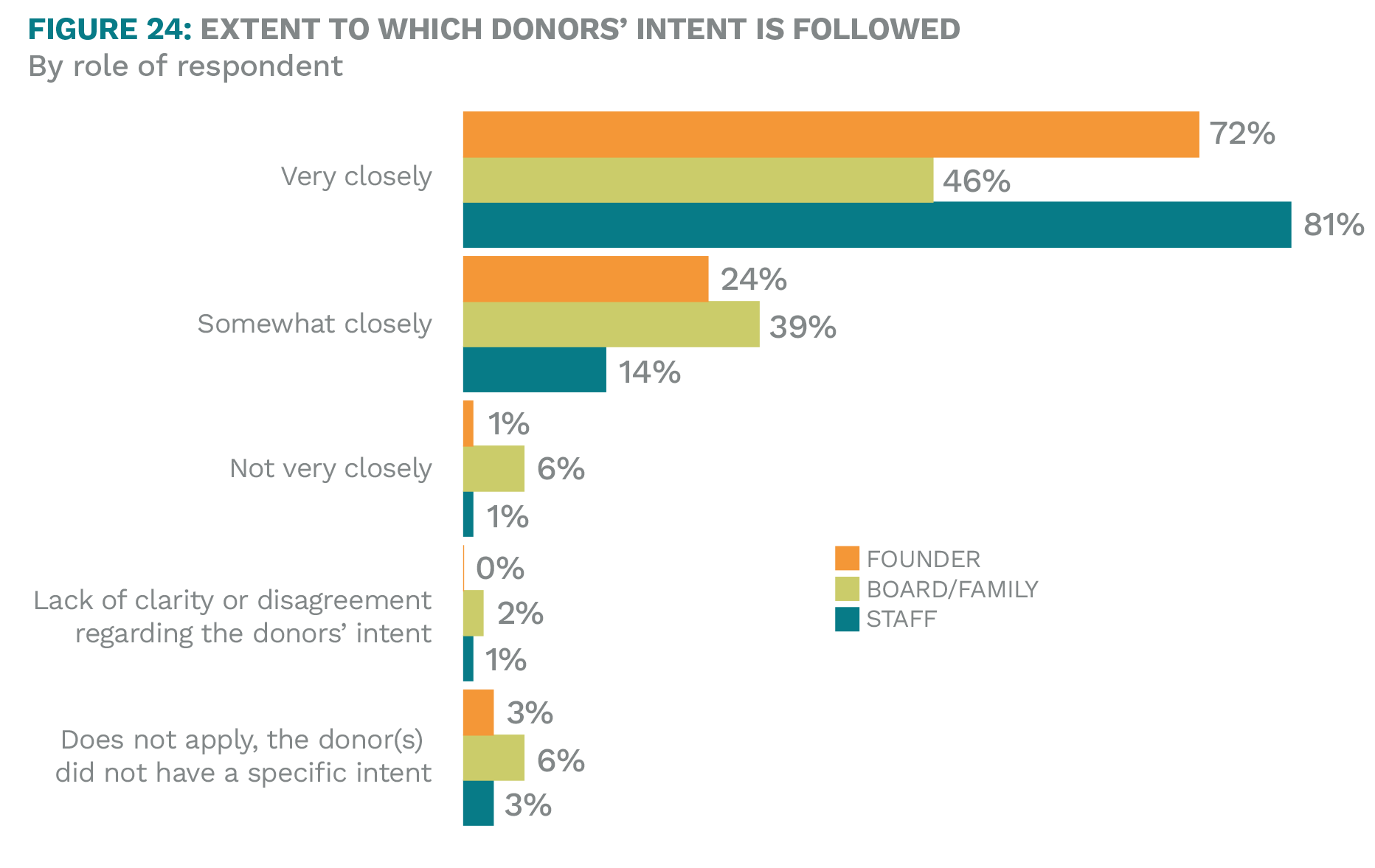 Founder Perspectives: Governance
Founders report spending far less time and attention on the governance of the foundation, and are much less likely to have documented their approach to governance.
Only 6% of founders list "governance" among the three areas in which the board spends the most
time and attention (vs. 41% of all other respondents, who list "governance" as one of the top three areas of time and attention).
27% of founders (vs. only 14% of all others) list next generation engagement as a top activity.
Only 43% of founder respondents report the use of one or more committees or advisory groups versus 74% of all other respondents.
78% of founder respondents indicate their foundation allows the use of discretionary grants vs. 56% of all other respondents.

Founder Perspectives: Family Dynamics
Founders seem to have different perspectives than other respondents on how generational dynamics affect the foundation. For example, 48% of founders say the older and younger generations are interested in different issues, whereas only 23% of other respondents list that as affecting their foundation. Additionally, 59% of founders place "a lot" of importance on the opportunity to engage younger generations over time as a key factor in sustaining family member participation (vs. 36% of others reporting "a lot").

Founder Perspectives: Transparency, Communications, and Assessment
Founders are much less likely than other foundation respondents to express interest in measuring the impact of the foundation's giving, to place value in communicating the goals and results of the foundation's giving, or to look for ways to formally integrate any of the following outside perspectives into the grantmaking process and/or governance structures.

Founder Perspectives: Future Plans
Founders exhibit little interest in changing their current approaches to governance, management, grantmaking, and transparency. In all areas, founders are much more likely to answer "none of the above" when presented with a list of possible actions/approaches they might take.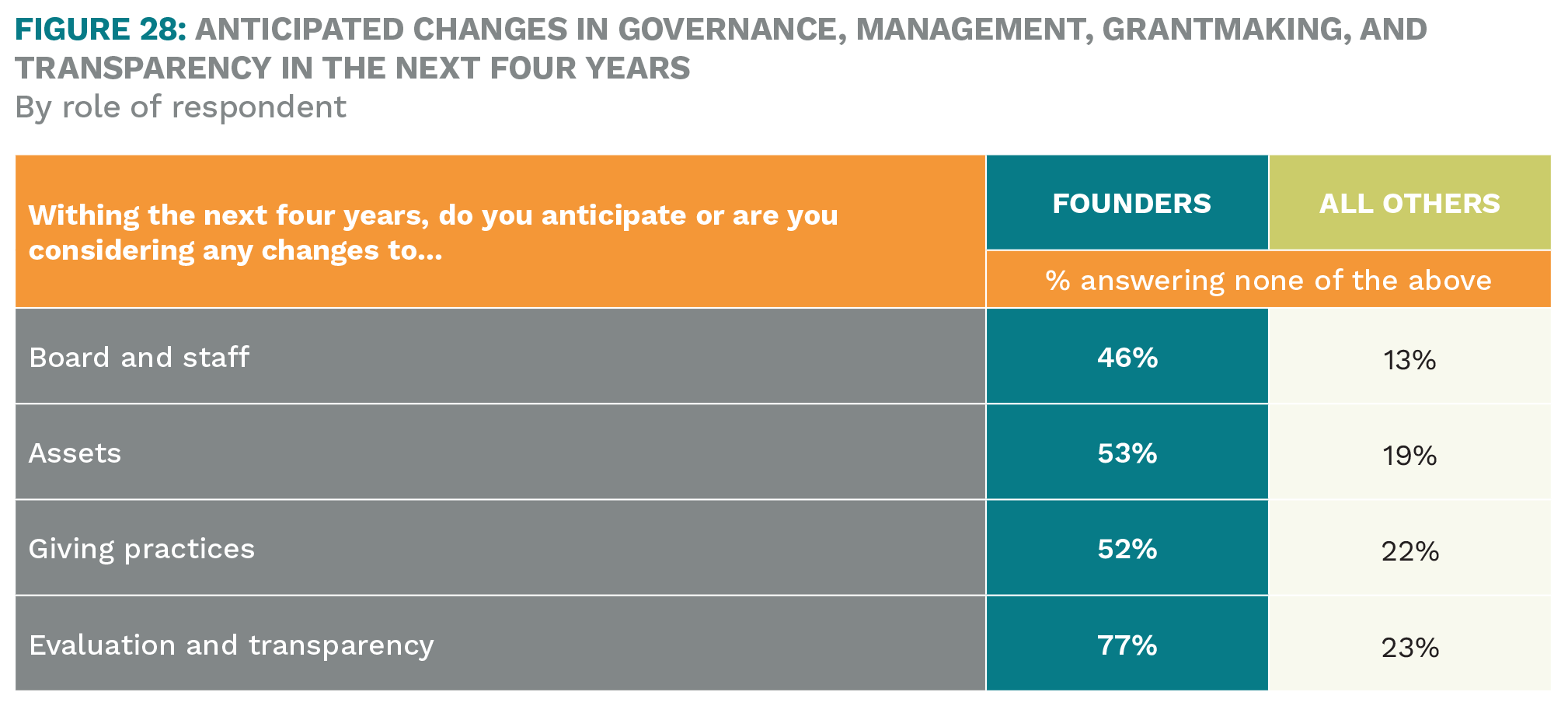 The full Trends 2020 study is available here.