Trends 2020: Results of the Second National Benchmark Survey of Family Foundations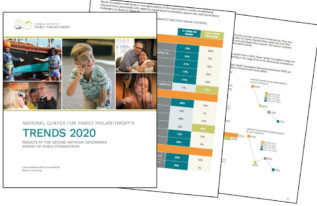 NCFP's inaugural study on trends in family philanthropy, Trends 2015, was the first benchmark study of its kind, designed to collect timely and actionable information about the field at a national level. The study's findings shed light on common challenges and have guided many in their philanthropy decisions.
Trends 2020 includes new questions relevant to ongoing changes in the field including issues of equity, place-based giving, transparency, the role of the donor, and the question of spend down versus perpetuity. These questions were developed by the Trends in Family Philanthropy National Advisory Committee, NCFP staff, and our experienced research partner, Phoenix Marketing International. Not only did the survey gather critical new data on the field, but it allows us to measure its findings against those from 2015—an incredible opportunity to track changes over time.
Read the Executive Summary of key findings.