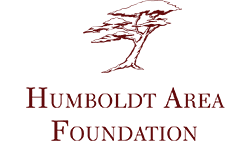 Humboldt Area Foundation
Humboldt Area Foundation (HAF) is a community foundation based in Bayside, CA. Its headquarters are the original estate of Vera Vietor, who founded HAF in 1972, leaving her property and a financial bequest to serve the community.  HAF partners with its affiliate Wild Rivers Community Foundation (WRCF) to serve more than 200,000 residents across Humboldt, Trinity, Del Norte, and Curry counties and Tribal lands.
Humboldt Area Foundation's mission is to promote and encourage generosity, leadership and inclusion to strengthen our communities. To accomplish this mission Humboldt Area Foundation offers a broad spectrum of services to respond to the complexity of our communities' needs. HAF listens to those we serve about where to dedicate staff time and resources to make our region stronger.
We're here to equip you with the tools you need to make a meaningful impact. Contact NCFP for support.
Keep up with trends in family philanthropy. Subscribe to our newsletter.
Gain access to personalized support and a network of peers. Join our community!