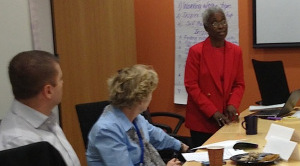 JJ Hanley faced a situation well known to nonprofit executives: the number of volunteers that wanted to help was outstripping the agency's capacity to manage them.  Operating with a small staff, volunteers were key to the success of JJ's List – which connects people with disabilities with community businesses and services – and her late-night brain-storms of one weren't getting anywhere. She had some ideas, but the challenge was new to her. Pay a consultant? Yeah, right.
Vital missions, visionary boards, few staff, and less money. How can nonprofit executives fill the gaps in experience and expertise created by lean budgets?
An innovative program by the Pierce Family Foundation in Chicago is offering ways to answer this and the gamut of questions that keep nonprofit executives up at night. Through their Peer Skill Share (PSS) program, the foundation connects staff among grantees to help each other answer questions ranging from how to use a piece of software to how to attract and retain volunteers or use social media more effectively, to how to better serve transgender clients.
"What's really exciting is that this program is beginning to bring people together whose paths might not otherwise cross because of different missions and constituencies, from housing and homelessness to fine arts. We all have a tremendous amount we can learn from each other," said Julie Hoffman, Managing Director of A Better Chicago who participated in Skill Shares when working at the Cara Program, a Pierce grantee. "And sometimes, rather than attending a workshop or making time for an all-day training, we just want to sit down with a peer, at our own office."
Twice each year, the foundation surveys grantees and asks them to name two or three things they could use advice on from a peer, and two or three areas of expertise they would be willing to share. Foundation staff matches needs and expertise based on the survey. If a need is expressed which doesn't have an obvious peer match, staff may identify a particular resource person or circulate the request to all grantees to encourage a match.
During initial rounds, grantee response was encouraging. In response to requests and offers made by grantees, Pierce staff arranged 60 matches resulting in Peer Skill Share sessions, involving nearly 150 people from different agencies.
Micro Grants
One of the most innovative aspects of the program is paying grantees to get together to help each other. Once a match is made, grantees arrange a two or three hour session. Once a brief report is submitted on the session, participant agencies – the trainer and the trainee – each receive a $200 grant. These small grants leverage large returns in building the capacity of individual grantee agencies as well as building the capacity of the non-profit sector as a whole, according to Pierce Family Foundation Executive Director Marianne Philbin.
"Professional development falls way down the list of priorities when a nonprofit is struggling to make ends meet— which is pretty much all the time," said Philbin. "But because this program compensates rather than charges, groups are jumping in. Peer Skill Shares offers a way to address a very specific need or problem for grantees.  For us as funders, it's a low cost way to provide highly customized assistance and build grantee relationships across agencies, which strengthens the sector overall."
Pierce is entering the fourth round of the program, and grantee response is robust. As word has spread, other foundations have joined in. Pierce is now mixing and matching grantees of seven other foundations, and hopes growing awareness will bring even more partners.
"One advantage that nonprofits have is a culture of cooperation.  We are working to leverage that strength to build greater capacity across the entire nonprofit sector. The Peer Skill Share micro-grants program is an innovation that has the potential to increase connections among nonprofit leaders rapidly," said Denis Pierce, founder and president of the Pierce Family Foundation.
Pierce Foundation staff are refining survey instruments and matching protocols, and developing a more sophisticated data-management system to make the matching process even more efficient.
"We're very big on supporting nonprofits with IT innovations, so it was a natural for us to create our own software that enables grantee agency matching and tracking. We hope to make this available to other foundations who might want to run Peer Skill Share programs now in their own regions," said Philbin.
Philbin credits Pierce with motivating staff to be creative and experiment with developing programs like PSS and his deep understanding of the "real costs and challenges nonprofits face."
While the Peer Skill Shares program is similar to online "crowdsourcing" approaches – in which solutions to problems are invited from a large pool of participants – the PSS program sets up face-to-face sessions between participants. This has the potential to forge longer-term relationships that help strengthen all parties over time.
"It's sort of like localized crowdsourcing, or online dating," said Philbin. "Some of the matches are going to be one-time things; others are going to turn into long-term, mutually beneficial relationships."