At the Forum, Exploring Our Past to Improve Our Future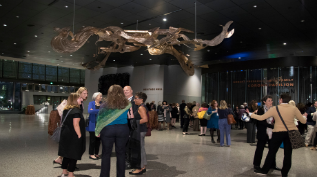 No matter their mission, family foundations exist to create a better future.
But their vision for the future is often shaped by the past — by the triumphs and tragedies of their founders and the subsequent experiences of the generations that follow them.
As the family foundation world gathers this week in Washington for the National Forum on Family Philanthropy, it does so at a critical time for the field — and for our country.
During the Forum's first day, we were challenged to take a closer look at our collective past so we can better understand how to navigate these challenging times.
The day's bookend events — a conversation with the documentary filmmaker Ken Burns and the powerful discussion about race and equity at the National Museum of African American History & Culture — examined our nation's imperfect history and pushed many of us to think about how our families fit into this history.
For some, the day's events served as a reminder of their family's journey out of slavery and into an America that continues to stack the deck against their success.
For others, it meant opening the closet to find the Confederate uniform worn by one of their ancestors.
For me — the descendent of Italian and Irish immigrants who arrived in this country after the Civil War — it meant advancing my own understanding of the advantages that have shaped my life and reinforcing the responsibility I have to help create a more equitable America for future generations.
The timing of these lessons couldn't be more appropriate.
Many of us feel overwhelmed by the news of the day — of mass violence in Las Vegas, white supremacists in Charlottesville, deadly hurricanes, and debates over health care and immigration and tax reform — it's easy to forget that now is not the first time our nation has felt deep division.
The Civil War and Vietnam offer perhaps the most obvious examples.
And Burns, who has created documentaries on both, reminded us that our nation not only survived the Civil War and Vietnam — but that we moved forward after these events with the idea that things would get better in the future.
Burns noted that this has the key theme of the American story: That we are a great, yet flawed, nation that continues to evolve and improve.
Today, many of us worry this storyline has ended and that America's best days are behind us.
Our nation seems to be growing more polarized by the day and is rehashing old battles many of us thought were behind us.
In looking at our history, however, we can draw encouragement that we will continue our journey toward a better future.
But doing so requires much more than looking at the past. It requires us to take bold action.
And that's where we come in.
Each of us are here at the Forum because we have a calling to make the world a better place — not just through exploring our history, but through bringing people together around a vision for the future.
For family foundations, these troubled times present challenges and opportunities.
The challenges are clear.
But families also have the opportunity to use their considerable resources to lead conversations that bring people together and take actions that will improve our communities — and our nation.