The Value of Making a Family Legacy Film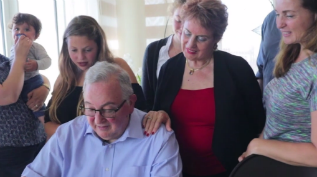 My parents' legacy was not something I ever talked about. It's not as if it makes for great dinner party conversation. The truth is I didn't even think about the legacy they would leave behind. But that all changed a few years ago when my family's financial situation was transformed and we established a philanthropic foundation.
Suddenly, I was thinking more about the meaning of money, responsibility, privilege, and the possible consequences of inherited wealth. That led me to question my parents' legacy – how would their wealth impact future generations of our family?
Inheriting wealth and the ability to give philanthropically is a wonderful gift. It can inspire individual growth, bring a family together, and benefit the world. But this doesn't happen without forethought and guidance. Indeed, we've all heard about the negative consequences that being born rich can bring. It can divide families and cause individuals in subsequent generations to feel confused and unrooted, disconnected from the money, and even to themselves and others.
A way to help minimize or avoid these consequences, while promoting positive outcomes, is for the wealth creator to pass on their story. It's a way for them to communicate their values and provide future generations a shared sense of their roots and identity; and to celebrate their life, achievements, passions, and philanthropic work. In other words, to leave behind a meaningful legacy that goes far beyond money – a legacy that can guide, influence, and inspire those who will follow.
As a filmmaker with over 20 years experience producing a variety of films, I decided to use my skills to help my parents tell their story and pass on this kind of legacy through film. When I suggested it to my family, they immediately saw the value of having such a work produced, but wondered what it would look like. Having made films for so many years, I knew I wanted to go beyond sit-down interviews and family photographs, but also show my parents experiencing moments that capture their values and character – moments that truly bring their story to life. I wanted to make a film that could be viewed multiple times by succeeding generations, and a work that comes across as a genuine testament from the heart.
My production partner and I first created a story outline, including who we would interview and what themes we would follow through the film. In my parents' case, who are both originally from Israel, we decided to focus on their love of Israel, as well as their values of honesty, integrity, and giving to the community. We also decided what scenes to shoot, mostly those that returned my parents to places from their past that would be meaningful to them and engender emotional and amusing moments. Since my family had worked on writing a constitution (another important way to create legacy), we decided to use the occasion of signing the family constitution as a bookend to the film.
Before production began, I spent several days rummaging through boxes of old family photographs and videos, and was surprised to discover some lovely 8mm home movies of my parents in the 1970s, and of myself and my sisters as babies. Organizing the photos, I created various piles that corresponded to the different stages of my parents' lives that would help tell their story. After all, appropriate visuals that match the narrative are critical to making an engaging film. (An added benefit of making a legacy film is that it provides the opportunity to finally digitize all those old pictures you have stored away in the attic and never seem to find the time to organize.)
Filming the interviews and scenes took about 8 days, and the editing a further 6 weeks. In the end we had a 43 minute film, though we also edited a shorter version that we thought would be better for non-family members. Since the film is mostly in Hebrew, we also made an English subtitled version for family members – present and future – that may not speak Hebrew.
At the next family event everyone viewed the legacy film together. It was such a pleasure to see my parents' faces light up as they watched. And afterwards, it was so gratifying to hear how much everyone in the family enjoyed the film. But, more importantly, my father told me that, "going through the process of making the film helped me better think about my legacy and what I'd like to leave behind." My older sister felt that the film "really captured our family's values," and she described how her teenage daughters had told her, "that we learned so many new things about the family."
In making the legacy film, I felt like I was connecting with future generations of our family, including those who will never get to meet my parents, but will benefit so much from their accomplishments. They will now get a sense of who my parents were, and hopefully be inspired and unified by their story. And the film can serve other, practical, purposes too. I can imagine a time when, for example, the board of our family's foundation decides to invite my grandchildren to sit as members. They never met my parents but feel an obligation to make grants in accordance with the context of their legacy. The film will provide them with an understanding of my parents' philanthropic hopes and dreams and the values that drove them to create a foundation.
By making the legacy film I was able to communicate so much that is important to my parents. I learned many new things that are meaningful to them and about the history of my family. So much so, that now their stories do make it to the dinner party conversation. And, in a way, have inspired me to start shape the legacy I want to leave behind.
You can view a trailer of the Lion family legacy film below.
This is "LION LEGACY FILM -Trailer (English)" by MYLKmedia.com on Vimeo, the home for high quality videos and the people who love them.