Our Values in Action: A Look Inside the Conrad N. Hilton Humanitarian Prize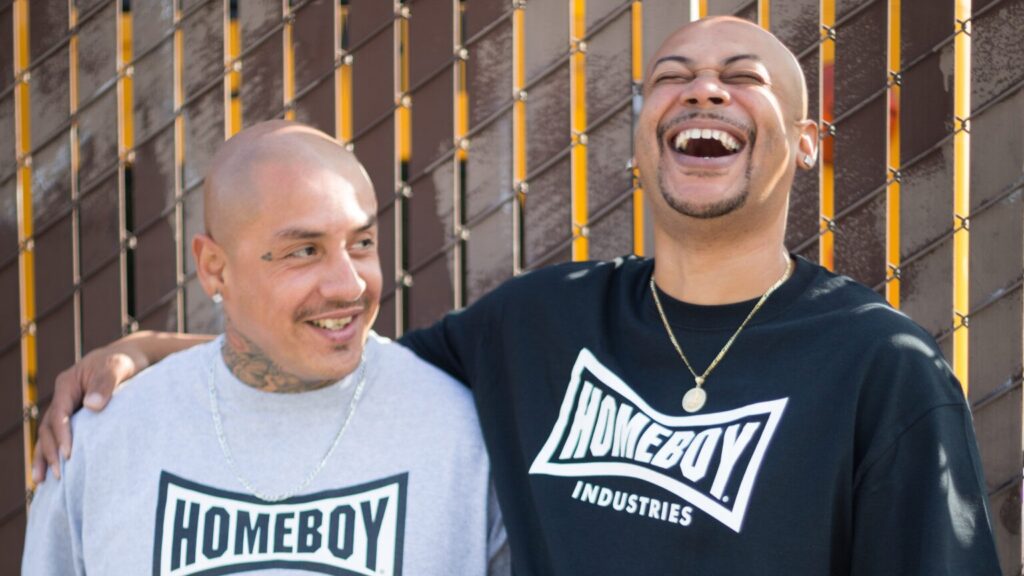 Homeboy Industries is a unique place where former gang members are able to experience healing from their violent pasts within the context of kinship. It is a place of hope where work therapy, mentorship, education, tattoo removal and many other vital re-entry services are offered so people can have a second chance at life. "We used to be worst enemies on the streets and now we're family at Homeboys." Edwin Ramos, Homeboy trainee (left) and Jermaine Smith, Homeboy navigator (right). ©Homeboy Industries
As a family foundation, we are always working to increase our impact in the communities we serve while honoring the legacy and intent of our donors, Conrad and Barron Hilton. It is through the Conrad N. Hilton Humanitarian Prize and strategic grantmaking through our program areas that we are able to live our values of integrity, humility, stewardship, compassion and "thinking big," a motto that Conrad embodied when approaching both business and philanthropic endeavors. The global change that has come with the COVID-19 pandemic has forced us to rethink how we approach our work in every way, including our partnership with 2020 Hilton Humanitarian Prize Recipient Homeboy Industries.
Rooted in our values, the Hilton Prize is the world's largest annual humanitarian award given to nonprofits making extraordinary contributions toward alleviating human suffering. Recipients are selected by an independent international jury, joining our circle of past laureates that include International Rescue Committee, Doctors Without Borders and Women for Women International, to name a few. Supporting and maintaining this community is humbling as we recognize the wide range of incredible work these organizations are doing around the world each day.
Homeboy Industries now joins this circle as a re-entry organization providing hope, training and support to formerly gang-involved and previously incarcerated individuals, based right here in our hometown of Los Angeles. We are inspired by the innovation and deep compassion of Father Greg Boyle, founder of Homeboy, and the community of "mutual kinship and love" that he has created, which has since become a blueprint for over 250 organizations and social enterprises around the world. Given current restrictions on our normal activities, we have had to "think big" to identify how we can celebrate Homeboy while practicing good stewardship to meaningfully honor their work during this unprecedented time.
This meant shifting what has historically been an in-person daylong symposium and ceremony into something that made more sense for the world we find ourselves living in today. We partnered with Devex, the go-to media platform for the global development community, to co-produce a virtual conversation series on the future of humanitarian action, which culminated in a virtual Prize Ceremony on October 23 featuring keynote remarks by Bryan Stevenson of the Equal Justice Initiative. By pivoting to this virtual platform, we were also able to broaden our audience to ensure more stakeholders heard what the experts at Homeboy shared about the obstacles and opportunities in their community.
In addition to direct services, Homeboy is working to end the stigma against those who are formerly gang-involved and previously incarcerated. A large part of this effort involves shifting harmful narratives and stereotypes often depicted in the media and popular culture. Due in part to our partnership with Devex, the announcement of Homeboy as the 2020 Prize recipient in early August led to a wave of positive media attention spreading Homeboy's message of hope and healing. By driving this conversation and leading with stories from their own community, Homeboy continues to shift this narrative by introducing the world to people with lived experience whose voices are essential to this work.
When we root our partnerships in our organizational values, it helps us learn and stretch as a foundation while working together on solutions to support the communities that we serve. In the words of Barron Hilton when the Prize was first established in 1996, "My father's life has blossomed into an array of charitable good works through the foundation which bears his name. Now, the Hilton Prize expands that philanthropic horizon." This year being the 25th anniversary of the Prize against the backdrop of a global pandemic, we believe both Conrad and Barron would be proud of how we are leveraging our resources in partnership with Homeboy to increase our collective impact.
---
The views and opinions expressed in individual blog posts are those of the author(s) and do not necessarily reflect the official policy or position of the National Center for Family Philanthropy.