Will COVID-19 usher in a new era of collaboration in philanthropy?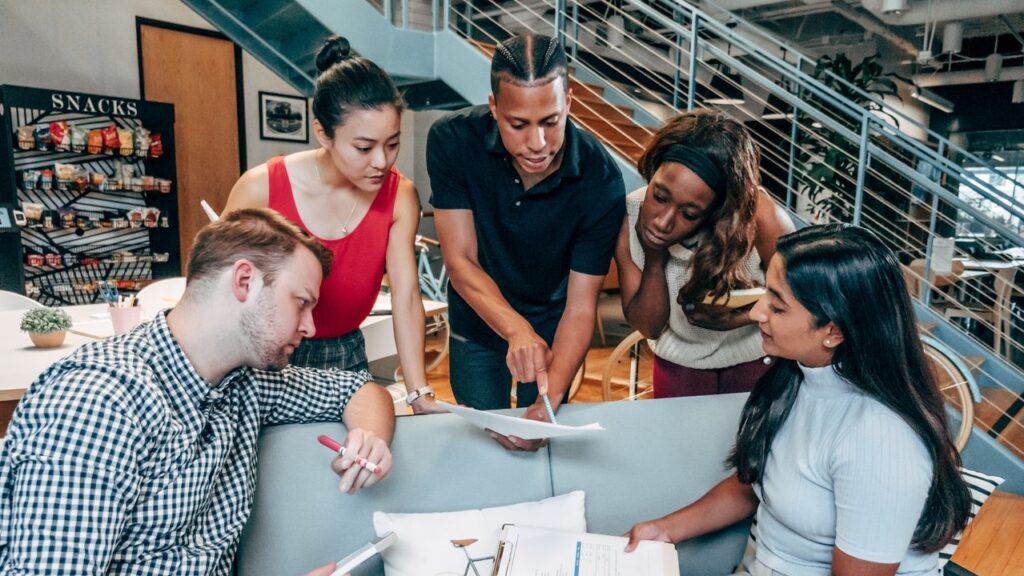 The Families and Workers Fund is a new donor collaborative that includes a mix of private, corporate, and family foundations pooling resources and information to address one of the most pressing issues facing the United States today: how to ensure an equitable recovery from the COVID-19 pandemic. Rachel Korberg, the Fund's co-founder and executive director, shares about the goals of the collaborative and what they have accomplished.
1. Tell us about why you founded the Families and Workers Fund.
We created the Families and Workers Fund in April 2020 as the COVID-19 pandemic was deepening its grip on the United States. The public health crisis also turned into a crisis of economic insecurity and inequality—and one that disproportionately affected people of color, young, and/or women and caregivers. We realized that philanthropy was going to need to pool dollars, expertise, and information to together confront the economic hardship inflicted so unequally by COVID-19.
Our power is truly in our ability to work together as a collective. For example, some of our co-funders bring proximity to the people most directly impacted by these challenges, while others bring extraordinary business acumen or policy expertise—all of these assets are needed to achieve deep, sustainable impact. Through this collaborative approach, we deployed almost $9 million in just a few months in 2020 to support people who were primarily excluded from the country's safety net. And while the labor market has improved a lot since then, nearly seven million people are still unemployed today and the storm is far from over.
Today, we are energized by the strange silver lining of the pandemic: it has helped to create a once-in-a-generation opening to repair and reimagine the systems that fuel economic security, opportunity, and mobility in our country. At the start of 2021, we shifted away from emergency response and grew to a more than $51 million donor collaborative working to build a more equitable economy that uplifts all—especially those who have been most locked out of the country's prosperity.
We are supported by more than twenty diverse foundations, individuals, and families, including the Ford Foundation, Jack Dorsey's philanthropic initiative #StartSmall, the Conrad N. Hilton Foundation, MacKenzie Scott and Dan Jewett, the Rockefeller Foundation, and the Surdna Foundation, among others.
2. What are the Fund's current goals? 
We focus on two impact goals: advancing jobs that sustain and uplift people, which we call "Recover Up," and also delivering more equitable and effective benefits, which we call "21st Century Benefits." We have already made more than $22 million in grant commitments across these goals, as well as our earlier emergency response work.
In our grantmaking, we focus on leveraging the unique opportunities for change that the current pandemic and economic recovery presents. For example, the federal government has allocated more than seven trillion dollars in various relief and recovery bills. To help make sure this funding achieves its important community outcomes while also advancing economic mobility and family-sustaining jobs, we launched the Good Jobs Champions Group with the Aspen Institute and a coalition of employers, investors, policy organizations, and worker/labor groups to help provide a broadly-shared definition of good jobs and roadmap for action.
3. Who are some grantee organizations that exemplify your approach and/or goals?
This is my favorite question, though it's hard to pick! The Workers Lab is piloting some incredible work to help gig workers, who are disproportionately women and people of color, better access benefits—especially unemployment insurance. They have built amazing partnerships with tech companies, workers, and state governments and will enable thousands more people to access the life-saving financial support that they are entitled to as they work to get back on their feet.
With every climate-related disaster, from a more severe hurricane to forest fires, thousands of workers act as "second responders" arriving to do grueling, vital physical labor like mucking out damaged homes. Too often, these folks are unable to fully support their own families and lack pathways to developing more secure, upwardly-mobile careers despite the vital work they do. Resilience Force is working to help professionalize these jobs and build career pathways, which will help the US to build more resilient cities and communities, while simultaneously improving economic mobility for a vital, growing part of the workforce.
4. It's unfortunately not that common for foundations and individual or family donors to work together. Yet, the Families and Workers Fund is a mix of both. What do you think the value is for each?
We are proud to be home to one of the most diverse coalitions in philanthropy that brings together funders who have worked on issues of economic opportunity for decades, and others are making their first grants in this space. 
Many aspects of the collaborative have resonated with our funders: 
Leveraging a dedicated, fast-paced team for giving during such a critical time for the country; 

Learning from and strategizing with experts, peers, and nonprofits in real time towards coordinated action;

Making strategic, meaningful investments quickly to address emerging issues without the wait time of reorganizing their giving strategy;

Having opportunities to meet cutting-edge grantees in a low-stakes way; and 

Building relationships with other foundations and philanthropists. 
For the philanthropy field, we hope that the collaborative will ultimately help to break down silos and enable us to work toward economic mobility more collectively—this is a space where coordination and large-scale funding is key.

5. What does the future of the Families and Workers Fund look like?
We have quadrupled in size in less than a year, and in the coming year we hope to continue to welcome new funder partners given the urgent need to advance a more equitable economy and secure livelihoods for all. We will also deepen our work with frontline organizations and other partners to ultimately help advance more upwardly-mobile careers for one million people by 2025, with a focus on young people, people of color, and those currently living in or near poverty. Along the way, we hope to cement the Fund as a key space for diverse funders—families, individuals, corporates, and private institutions—to partner together effectively, learn from each other, and help to address one of the most pressing challenges of our time.
You can learn more about the Families and Workers Fund on their website or in the Chronicle of Philanthropy.
Rachel Korberg is the executive director and co-founder of the Families and Workers Fund
Nick Tedesco is the president and CEO of the National Center for Family Philanthropy
---
The views and opinions expressed in individual blog posts are those of the author(s) and do not necessarily reflect the official policy or position of the National Center for Family Philanthropy.