Board Director Job Descriptions (Lipscomb Family Foundation)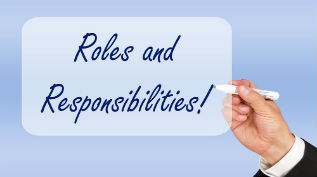 Board Director:
Each board member of the organization shall be responsible for:
Fully understanding and committing to the mission, goals, and objectives of the organization.
Fully understanding the roles and responsibilities of the Board of Directors.
Fully understanding the roles and responsibilities of the staff.
Fully understanding the day-to-day activities of the organization.
Preparing for and attending all meetings of the Board of Directors. This includes reading materials, preparing for questions, and being prepared to vote on grants.
Providing general advice and assistance to the organization upon request by Board members and/or staff.
Providing reports, materials, and other items associated with Board responsibilities and activities in a timely manner.
Informing the Board of all actual and potential conflicts of interest relating to the general purposes and activities of the organization and to specific issues before the board.
Developing policies, procedures and regulations for the operation of the Foundation, and monitor the Foundation's financial health, programs and overall performance.
Other responsibilities as requested by the Board of Directors, the Board President, or other officers of the Board.
Officers:

Board President:
Oversee board and executive committee meetings
Strengthen family unity, foster respect for family history and ensure effective succession planning
Foster and protect a safe environment for open communication and inquiry; ensure due process
Work in partnership with the executive director to make sure board resolutions are carried out
Call special meetings, if necessary
Assist executive director in preparing agenda for board meetings
Assist executive director in conducting new board director orientation
Oversee searches for new staff
Coordinate executive director's annual performance evaluation
Coordinate periodic board assessment with the executive director
Act as an alternate spokesperson for the organization
Periodically consult with board directors on their roles and help them assess their performance
Board Vice President:
Attend all board meetings
Carry out special assignments, as requested by the board president
Understand the responsibilities of the board president and be able to perform these duties in the president's absence
Board Secretary:
Attend all board meetings
Maintain all board records and ensure their accuracy and safety
Review board minutes
Assume responsibilities of the president in the absence of the board vice president
Board Treasurer:
Have a thorough knowledge of the organization and a personal commitment to its goals and objectives
Understand financial accounting for nonprofit organizations
Serve as financial officer of the organization
Manage the board's review of and action related to the board's financial responsibilities
Work with the executive director to ensure that appropriate financial reports are made available to the board on a timely basis
Assist the executive director in preparing the annual budget and presenting the budget to the board for approval