Find Your Passion: Information for Next Gen Donors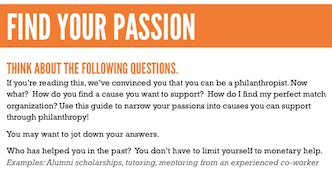 How do you find a cause you want to support? How do you find your "perfect match" organization? Use this guide from Giving Circles Fund to narrow your passions into causes you can support through philanthropy!
This special worksheet provides questions for next-gen donors to consider, including:
Who has helped you in the past?
How have you helped, in ways other than giving money, in the past?
Do you currently donate money? What causes have you supported in the past?
Why do you give? Have you had any life experience that have shaped the causes you feel strongest about supporting?