Mission and Values of the Irving Harris Foundation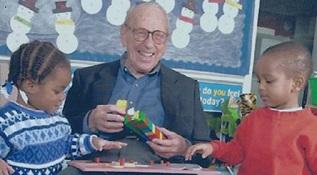 Mission
The Irving Harris Foundation enhances the quality of life for children, families and communities by advancing human potential, social justice and equity, and creative experience and expression.
Values
The values of the Foundation, inspired by our founder and his work, are infused in everything we do, from grantmaking to coalition building to field leadership. We believe these values are critical to achieving progress toward our goals in a way that recognizes the contributions and value of all stakeholders and affirms our founder's legacy.
Justice: We strive to eliminate inequities, promote diversity and address systemic injustice to foster a society where every child, family and community has the opportunity to develop its potential and thrive.
Risk-taking: We recognize that making catalytic, sustainable change entails informed risk-taking in our philanthropic investments and field leadership.
Collaboration: We believe the greatest impact comes from convening grantees, the public sector and other funders to build relationships that identify innovative programs, leverage resources, and enhance the sustainability of promising work.
Partnership: We understand that no one funder, grantee or public sector organization has all the answers. We work side-by-side with our grantees and others to ensure the voices and experiences of those most affected by problems help advance the fields in which we are all invested.
Persistence: We focus on addressing the root causes of problems and recognize that investments and programs take time to bear fruit.
Source: Irving Harris Foundation website