Northern New England Community Foundation Impact Investing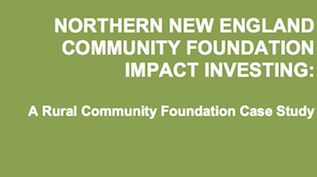 An increasing number of urban and rural community foundations are launching or broadening impact investing strategies, including through donor engagement. This case study focuses on how rural as well as other community foundations can do so, by:
Chronicling the work of three state-wide Northern New England community foundations serving largely rural areas, from different starting points and with varied goals.
Offering an impact investing roadmap, with discussion of how the tasks and issues play out for rural institutions.
Identifying operating issues and options as community foundations launch and/or expand programs.
Reviewing community foundations' potential to leverage their impact investing strategies, along with regulatory considerations.
Revealing the potential to enhance impact and efficiency through collaboration.
Identifying "lessons learned" from the rural community foundations' experiences both individually and as a collaborative.