The Irwin Sweeney Miller Foundation: A Study in Spend Down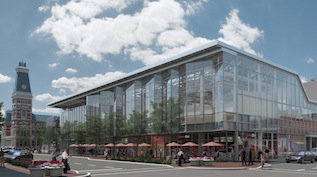 [Photo: The New Commons Mall in Columbus, Indiana, a centerpiece of the Irwin Sweeney Miller Foundation's neighborhood revitilization project.]
This is the story of the third generation members of the Miller family who chose to spend down the Irwin Sweeney Miller Foundation, with assets of approximately $25 million. Their story is different from many in two important ways. First, the decision to spend down had not been suggested or implied by previous generation donors Nettie Sweeney Miller, Clementine Miller Tangeman, J. Irwin Miller, and Xenia Miller. Second, the decision was driven by the possibility of making a significant difference in Columbus, Indiana, the family's historic community, even though only one of the six current generation families still lived there.
Inevitably, family foundation spend downs involve a struggle between different beliefs about potential "goods." Some families do good by continuing the foundation over the years and growing the assets. But that approach isn't for everyone. Some families would be more effective if they considered a creative and strategic spend down, as did the Millers.
Some families don't have the interest, experience or time to continue a foundation from one generation to the next, even if they have good working relationships. However, one of the important learnings from the ISMF experience is that even families with some strained relationships can often work well together for a stated period of time around a specific cause or project. The Columbus community has benefited enormously from the willingness of the third generation to respect the family's legacy, think strategically, work with each other and the community, and ultimately make critical decisions about the future of the foundation.