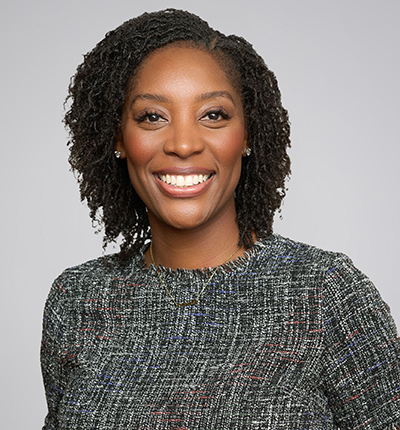 Emerald Adeyemi
Senior Director, Growth and Engagement
Emerald Adeyemi is the Senior Director of Growth and Engagement at the National Center for Family Philanthropy (NCFP). In this role, she leads NCFP's fundraising strategy and donor engagement initiatives to advance the field of family philanthropy in pursuit of a just and equitable society.
An astute strategist and purpose-driven leader, Emerald has more than a decade of experience in the social impact sector. Throughout her career, she has helped organizations strengthen their operations and sustainability through fundraising strategy, systems building, and cultivating enduring relationships with stakeholders and donors. Most recently, she was the Director of Membership and Development at Grantmakers for Effective Organizations (GEO) where she worked to strengthen organizational capacity and expand its membership community.
Prior to GEO, Emerald held fundraising roles at community-based organizations in the DC Metro Area including Leadership Greater Washington, CityBridge Foundation, and Higher Achievement.
Emerald is a proud first-gen college graduate of Howard University and an accredited Certified Fund Raising Executive (CFRE). She is a member of the Black Benefactors giving circle and resides in Howard County, Maryland with her husband and toddler son.
We're here to equip you with the tools you need to make a meaningful impact. Contact NCFP for support!
Keep up with trends in family philanthropy. Subscribe to our newsletter!
Gain access to personalized support and a network of peers. Join our community!