An Interview with NCFP's Senior Fellow Ginny Esposito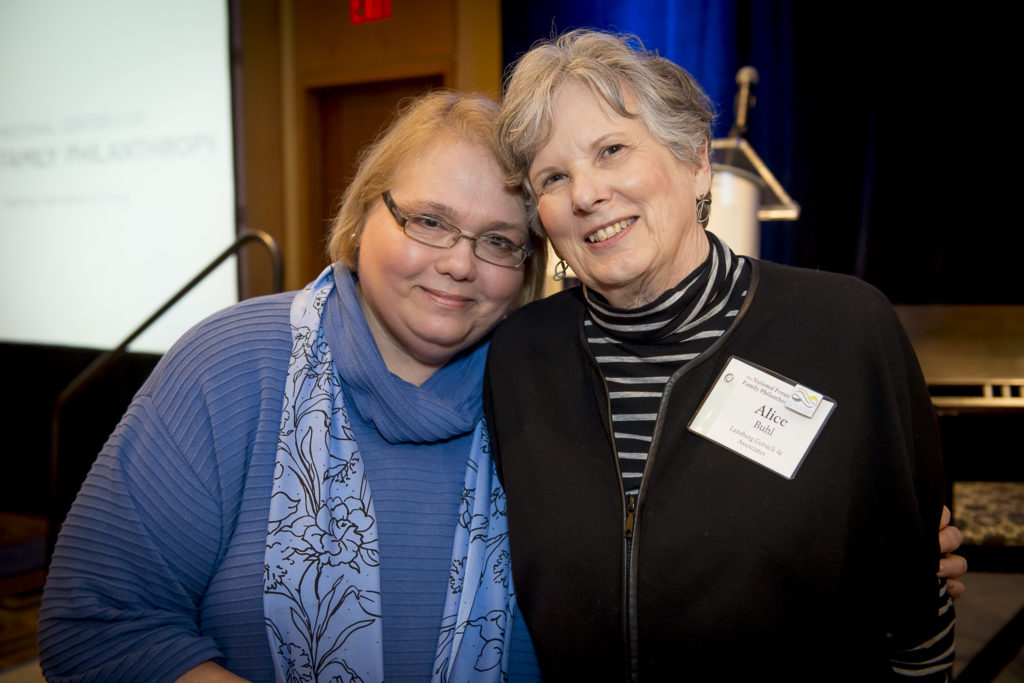 Ginny Esposito with NCFP's inaugural Senior Fellow, Alice Buhl
Editor's Note: Vice President of Programs Jason Born spoke recently with NCFP Founder Ginny Esposito about her transition to the role of Senior Fellow at the beginning of 2020, and some of the projects and initiatives she is working on in that new role.
---
I'm here today with my long-time friend and mentor, Ginny Esposito. Ginny is a legend in the field of family philanthropy, and was the founding CEO of NCFP. After more than 22 years, at the end of 2019, she transitioned into the role of senior fellow for the organization. We're pleased to talk with her about the role of the senior fellow, highlights from her recent conversations with families, and what she sees for the future.
Ginny, can you start by telling us a little bit about the history and current role of the NCFP Senior Fellow?
Thank you, Jason, and thank you for asking me! Interestingly, NCFP has had a Senior Fellow for quite some time, almost back to the earliest days. We recognized at the time that there was real value in bringing someone in from the outside who cared deeply about the Center and its mission, and who could support our small staff in their thinking about potential research projects, publications, and presentations. We were very lucky that one of NCFP's founders, Alice Buhl, who had one of the most distinguished practices providing consultant advice to families, was willing to come in and help with projects like the Generations of Giving research and the Pursuit of Excellence Report and the POE Board Self-Assessment Tool. Alice wrote and spoke for us countless times, and when we as staff just wanted to talk through an issue with her, she was available to us. Essentially, the senior fellow role began as a way to advance and augment the NCFP staff.
Some years later, we inaugurated the NCFP Distinguished Fellow, looking to honor and engage someone with a long career as a volunteer, who could help share their knowledge and experience with the field. Our first Distinguished Fellow, named in 2014, was Susan Packard Orr of the David and Lucile Packard Foundation and our current Distinguished Fellow, appointed at the end of 2018, is Mary Mountcastle of the Mary Reynolds Babcock Foundation.
And then we also added the National Center Fellows, who are mid-career professionals and volunteers, offering them a platform for what they had to say and contribute to the field. Our initial Fellows class included Katherine Lorenz and Doug Bitonti Stewart, and current Fellows are June Wilson and Kelly Nowlin.
How and when did you transition to the role of Senior Fellow?
Well, I was really lucky that Alice, who had been my longtime mentor, let me know that she was ready to retire from that role. This was about the time I was ready to find a way to continue contributing to the Center, but also allowing the Center to go forward and explore its future with a new CEO, a new team, and new board members. So, I came to this as the sort of logical next place for me. And, I was very lucky that the Board wanted to make that kind of work possible for me, and Nick and the rest of the staff were also excited about that possibility!
You've been talking with many donors and leaders in the field over your first six months as Senior Fellow, and of course before that as the long-time CEO of NCFP. Can you highlight a few of the concerns that you have been hearing? Is there any optimism or hope out there?
My first formal Senior Fellow project evolved quite a bit from what you and I imagined. I began talking with different families about how they are navigating the pandemic. What are the grantmaking, financial, and health tensions and challenges that family giving leaders are dealing with? I've realized through these conversations that people are eager and committed to finding purpose and value in times of tragedy and transition.
Issues of race have really changed the conversation and added a second pandemic, if you will, that this country absolutely needs to deal with. So, the first publication from the Senior Fellow's agenda was the results of those conversations, released a couple of weeks ago.
I will say that I'm having some of the most moving conversations that I have ever had. And I don't say that lightly. I frequently got off a call feeling both excited that the people I am speaking with are out there working on behalf of all of us—because they are just so incredibly engaged and thoughtful—but I would also feel a bit emotionally wrung out because they were, too.
But as I listened to them, I was struck by how they were able to embody the best of family philanthropy: how do you marry the empathy you feel for your communities, that compassion you feel, with the analysis and strategy necessary to be a good funder?
And I think family philanthropy, at its best, bridges the line between these two things. Family philanthropy is frequently the heart and the mind. It allows donors to follow both routes to understanding: the compassionate, and the analytical.
And these families feel connected to their communities, whether it is a geographic community, or whether it's a community of concern, because they fund in education, or whatever it might be.
This is part of who they are. And, because they are so committed to seeing their communities through these times, they're finding creative ways to do so. They're finding partnerships. They're realizing that they can't always do things the way they have done. I was really impressed with the fact that so many of them were saying: "How do we work with the people in our communities to address this situation?"
And many of them realized that the logic which says you never put money directly in the hands of individuals doesn't hold up when people are starving, and when people are homeless because of what has happened. And they needed to come up with a creative way to say, how do we get out help to these families quickly?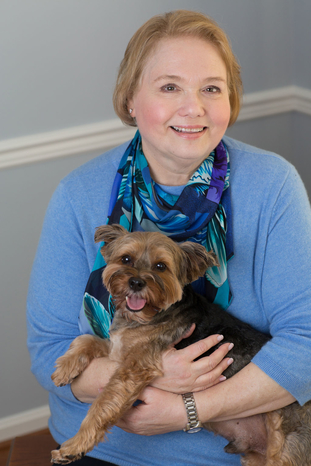 Just last year, you published a report on place-based family, titled Pride of Place. A lot of the things you're talking about are things you found in that study. Are there other lessons from that study you'd like to share?
What I learned in that study, was that founders and families are invested in the long-term health of their communities. They know the players and they know who they can rely on and bring into the process of doing this work. And they aren't going anywhere.
Probably the comparative is, if you're funding in the environment these days, it's not something you do for two years. If you're going to take on the environment, you're going to take it on for the long haul.
For donors and families that are place-based, they've taken it on for pretty much the length of their giving. And when there's a crisis, you begin to see flexibility because you can rely on trust.
Funders are willing to suspend grant deadlines and report deadlines, and to make it possible for the organizations they support to better navigate an uncertain world, like we're in right now.
And it's not just their flexibility—it's the fact that they are so incredibly, personally invested and committed to this. This is something they live with, because, as one person told me, "We're part of this community. We want it to do well."
And families and boards also recognized how present they needed to be. This couldn't be something they phoned in every quarter. There were boards adding, in one case, up to eight meetings in a two-month period. Because they needed to be on top of a rapidly changing scenario. And they were willing to do it.
Can you talk a little more about those moments? What are some of the changes philanthropic families are facing?
In addition to the seismic societal changes, families reach out to me when the family giving program is going through a significant transition, where something has happened to change the way they think and do their work, and whom they involve in their work. This can be the retirement or deaths of senior family leaders. It can be an influx of new assets, or a moment where the family is not sure it can manage the work on its own and may need to think about outside staffing for the first time. It might be the moment they realize a new generation is ready to come in and lead the decision-making. It might be that they're at a point as a family where they've evolved away from really understanding exactly what the donor would have wanted and are looking for how to develop a shared agenda.
There are these significant transitional moments in time and usually people call me when they're in the middle of those moments. And, generally, when the moments have manifested themselves by giving them some trouble. Perhaps people aren't filling the roles they've always played, or new people want to be at the table. Or, perhaps the family needs to figure out how to manage a $200 million endowment when they've had a $20 million endowment for years—all of a sudden, their systems are going a little crazy.
So, what I have to do is come in and help them see the very natural evolution of things that have brought them to this moment, and help them sort out the questions so they can manage and address them in ways that are helpful and productive. That's a process that I've been really lucky to have been involved with many families eager to do that work.
One of the great things that has happened, in part because NCFP does a great job of helping people understand these transitions better, is I'm now getting more calls from people who say, "We think that a transition is coming in our future. How can we prepare for it, rather than react to it?" And preventative medicine is usually so much easier than emergency room treatment! So, much easier and so much better.
At the same time, families can, understandably, get emotional about these things. We don't want to prepare for the day where Mom and Dad are no longer at the table. That feels painful. It feels disloyal. We certainly don't want to talk about it in front of Mom and Dad. But what you can miss by not having that conversation is the opportunity to think about the future when Mom and Dad are still there. And I try and help families see the wonderful opportunity to do some of this planning with the people who are most responsible for the fact that the giving is happening as a family. I help them explore how they can do that in respectful and exciting ways, rather than sitting around after Mom and Dad are not there anymore, and trying to figure out what they would have wanted, which can be a really sad moment.
Let's close things out with a quick look to the future. What are your immediate plans for the next phase of your Fellowship, and what are you most excited about?
I have a number of families than I am currently supporting. A few that are going from G1 to G2 or G2 to G3, and a couple that are having an estate event that will add significantly to their assets.
A couple of the families I'm working with are trying to figure out what they share as a family. This is not uncommon when you get into G3 and G4, where you have all these individuals at different stages of their life, asking, "OK, what are we doing together and why is it important to us that we continue doing it together?"
I'm also hoping to go back and do some work around those who've been starting up foundations. NCFP is committed to supporting the huge numbers of newer foundations, especially those created in the past 30 years, and providing specialized advice for foundations where the donor is still involved.
And, of course, I'm excited about working with my fellow Fellows around the issues that have been identified by the group, particularly racial justice. And supporting each of them as they work on their personalized issues of senior family leadership, limited life foundations, and next gen mentoring. There are wonderful areas where we get to work as a group.
There will be some other papers and short blogs coming, all with some relationship to governance—everything from what makes for a highly functioning board, to my favorite question, "how do you build the board your foundation deserves?" I'm also looking forward to the opportunity to write about some of the common traps that families can find themselves in and practices to avoid these traps.
And, finally, I'm fortunate to work for an organization that is staying highly attuned to what's going on in our society and trying to be very responsive. And they've been willing to grant me enough flexibility to be as responsive as we need to be.
It sounds like an exciting array of activities and programs. Any parting words, comments, or words of advice?
I know that many people feel very isolated in these times. It is one thing to be dealing with catastrophe and tragedy. But it's another to be doing that from your home office where you're not connected to the energy that comes from the people you work with and who share your experiences. That's really, really difficult these days, but that doesn't mean that there aren't people there to help and support you.
And this is a time when the National Center wants to be there for you, even though we're dispersed too. We are there to have a conversation with you, or to connect you to other families with similar experiences. We are really terrific at that date mating function! Remember that while you may be working in quarantine, you don't have to be working in isolation. We want to be as much a part of getting you through this as we can possibly be. So, do reach out!