Unit 1: Assessing Readiness & Goals
Is your community foundation in the exploratory or early planning stage of delivering family philanthropy services? Have you started services but want to test your internal capacity and alignment for expanding them? This unit provides tools and stories to get you started.
---
NCFP created the Family Philanthropy Readiness Self-Assessment in 2017 to help community foundations assess their capacity to serve multi-branch and/or multi-generational families.
The online survey's 30 questions test staff assumptions about five topics:  mission and core business compatibility, understanding your market, donor stewardship and philanthropic services capacity, family philanthropy services capacity, and business model and success measures. The resulting report helps frame internal discussions about the foundation's readiness to serve philanthropic families and next steps to strengthen capacity and alignment.
The self-assessment process is free to all community foundations, regardless of affiliation with NCFP. It may also be helpful to Women's Funds, Jewish Federations, and other community philanthropy organizations. To learn more and start the process for your foundation, click here.
---
DISCUSS: Setting Goals
What is your primary goal for developing family philanthropy services? A few years ago, The Philanthropic Initiative (TPI) surveyed community foundations about their primary and secondary goals for those services. TPI categorized the impact on three types of beneficiaries in this chart: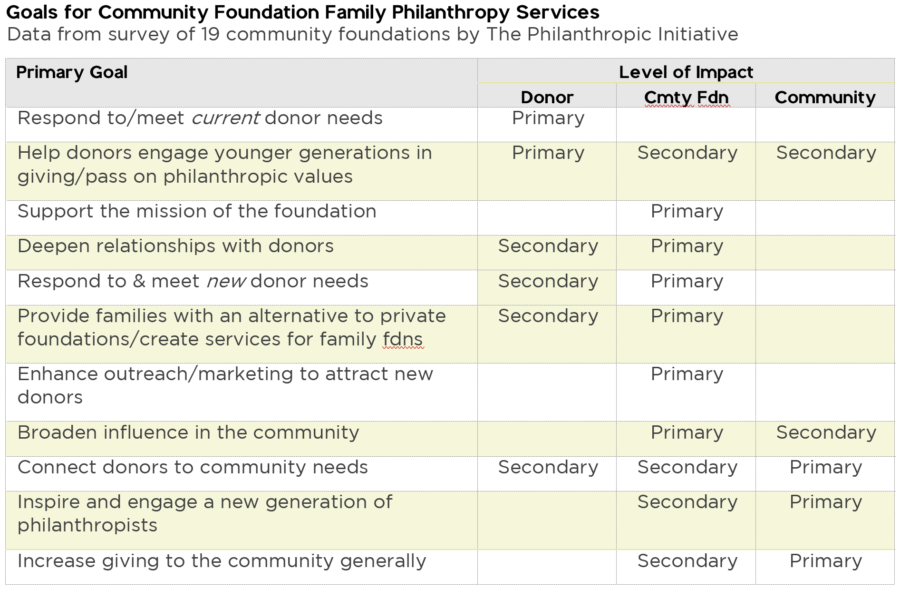 ---
NCFP developed this checklist based on the advice we heard from subscribers to our Community Foundation Family Philanthropy Network. Use it as a quick starting point for personal reflection or as an action planning tool after your foundation has completed the Self-Assessment tool.
---
In this 2017 webinar, staff from the Central Indiana Community Foundation describe the foundation's 15-year journey to develop, redevelop, and expand its philanthropic services for families.