Join experienced, former board chair Susan Packard Orr for a discussion about navigating transition, legacy, and multigenerational engagement, as well as the complexities of family philanthropy. Bring your questions and challenges to this peer learning space. The final 30 minutes will be peer discussion and breakouts.
As a reminder, our Peer Network events are not recorded. 
If you are unable to attend this event, but are interested in being a part of the Board Chair Peer Network, sign up here. 
Featured Speakers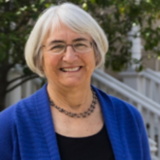 Susan Packard Orr
Susan Packard Orr is the former board chair of the David and Lucile Packard Foundation and…
View Profile