Steps for Success: Engaging a Consultant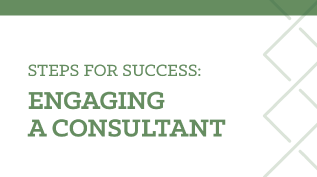 Consultants support the effectiveness of nonprofit agencies and grantmakers in many ways. For example, you might turn to a consultant to bring expertise on a specialized topic, to help you understand and address a major challenge, or to facilitate alignment within a group. But no single consultant can do everything, client organizations often have a lot at stake when they engage an outside service provider, and the inherent power dynamic between consultant and client needs to be managed well to develop a productive partnership.
How do you find and collaborate with a consultant effectively to reach your goals? This tool features nine steps that can help your organization build strong relationships with consultants, adding value through a sound investment of your time and money. It is accompanied by links to other resources that can inform your work with consultants.