The Future of Philanthropy: Where Individual Giving is Going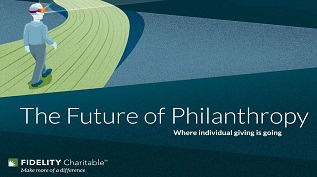 As the philanthropic landscape changes, the way donors perceive and
approach giving is evolving, too — though not always at the same pace.
This report from Fidelity Charitable® provides insight into the priorities of individual donors, who generate 87 percent of all charitable giving in the United States, and offers a glimpse of where emerging generations may steer philanthropy in the future. The Future of Philanthropy details the results of a survey of 3,200 donors who
answered substantive questions regarding their outlook on and engagement with giving. What causes are the most important to address for the future? Who are the changemakers they trust to provide solutions to society's problems
going forward, and who do they believe should pay for those solutions? What trends shift the ways they give? The answers to these questions reveal both traditional and non-traditional approaches to giving that will continue to shape giving for years to come.