Learn Foundation Law: Working with Government Officials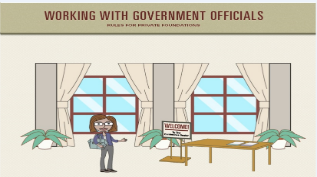 Hi, it's me, Maya, from Learn Foundation Law. Back in May I introduced the NCFP network to our free online courses on legal issues in grantmaking that were developed by legal staff at the William and Flora Hewlett Foundation, Bill & Melinda Gates Foundation, the David and Lucile Packard Foundation and Gordon and Betty Moore Foundation. Well, I'm back to present another course that I've found very helpful in my work as a new program officer at a private foundation—Working with Government Officials.
Family foundation staff and board members have many important reasons for working with government officials on a nonpartisan basis—to provide information, share ideas and draw on diverse viewpoints to ensure their own grantmaking serves the public good. But the rules governing those interactions can be complicated to apply.
Our Working with Government Officials course provides an excellent overview of both the tax and ethics rules involved to help family foundation leaders to stay in compliance with the law. These regulations include the IRS tax rules and federal, state, and local ethics rules that prevent government officials from accepting inappropriate gifts or benefits from private parties, including foundations. The training is designed to aid private foundations in spotting issues that require special consideration before working with government officials. The course also contains valuable resources, including a checklist and summaries of various rules.
The training also offers real-life scenarios when a private foundation staff or board member might interact with a government employee, including conferences, meetings and project site visits. Employment issues are also addressed, including guidelines for when a foundation considers hiring a former government official.
Please visit our website at www.learnfoundationlaw.org for the Working with Government Officials course and the rest of our trainings. Also included on our website is a supplemental toolkit that can aid in using our courses within your foundation.
Also, if you have any questions or comments about Learn Foundation Law or if you would like to receive notices about new courses or updates, feel free to contact me at maya@learnfoundationlaw.org.