Honoring the Legacy of David Rockefeller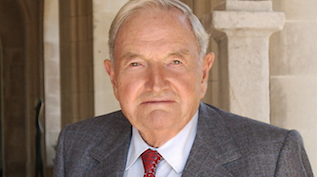 Many years ago, as the head of a fledgling nonprofit, I happily and gratefully celebrated every new funder letter (truth be told, I still do). Having an individual, family or foundation express support for what the National Center for Family Philanthropy does to advance more and more effective family giving was such affirmation and encouragement for our bold new initiative. It went a long way to pay the bills too!
Each is special. But I will never forget that December day many years ago when a check arrived from David Rockefeller. Back then, I got to open the envelopes myself and what I pulled out looked like a personal check. I stared at it for a very long time, absorbing what it meant to me. I thought long and hard about framing it and putting it on my office wall. Of course, I came to my senses and deposited it (as a good banker would have wanted me to do!). And I have done so every December since those early days. It might have been the only envelope the staff still let me open. A couple of months ago, I received a cordial, equally encouraging, letter telling me that, as he had passed his 100th birthday, Mr. Rockefeller was ending his annual gifts to organizations like mine. I can't help but wonder how many other groups felt so incredibly supported by his practice of making these so very special gifts. I can only say his impact on my work – and that of the Center – is inestimable.
It was with deep sadness that I read of David Rockefeller's passing earlier this month. While there was no in-person connection – beyond a few fleeting conference moments – the news and the grief were very personal indeed. David Rockefeller was and will always be a national, even global, treasure of philanthropic inspiration and example. There is no thought of an era ending. Mr. Rockefeller helped to ensure that there would be generations of his family carrying on the privilege and promise of philanthropy. Regardless of their diverse personal or collective interests, what links them all is a generosity of spirit and time as well as giving. That is a powerful legacy to leave. It's also a powerful example for any other family hoping a tradition of gratitude and generosity extends into the fourth, fifth, even sixth generations.
Examples of his legacy are captured in the current issue of Family Giving News. His grandson, Michael Quattrone, is featured in a New York Times article. His grandson, Adam Growald, has written a piece on lessons his grandfather taught him. Knowing Peggy Dulany and Eileen Growald, Mr. Rockefeller's daughters and mothers to Michael and Adam, respectively, it is easy to see the transmission of values and vision from grandfather to daughter to grandson.
While I remain comforted and supported in the knowledge the Rockefeller philanthropic legacy is vibrant and well, I nevertheless know the personal loss is heartbreaking for his family and dear friends. Such transitions in any family are emotional and wrenching times. So, to Peggy, Eileen, Michael and Adam, to Marnie Pillsbury and Lukas Haines, and all the family members and staff of the Rockefeller foundations, my deepest condolences and respect.
---
"My cousins and I mourn the passing of our kind and loving grandfather, David Rockefeller, who served as model and inspiration to us, and the wider Rockefeller family. He embodied the values of reverence for the Earth, stewardship of the arts, and service to humanity. He taught us to leave the world a better place than we found it through hard work, strong and diverse relationships, and generosity. In his later years, Grandpa delighted in becoming a great-grandfather, and was devoted to his ten great-grandchildren. He said often, 'Love is the most important thing.' We are grateful for his vision of the David Rockefeller Fund as a way to engage his descendants in meaningful work across generations. His generosity and wisdom have made possible a new generation of family members committed to a more just, creative, and flourishing world." – Michael Quattrone, David Rockefeller Fund Board Chair and grandson of David Rockefeller
"David Rockefeller was a model of humility, as well as generosity, to the DR Fund staff and we are left with gratitude for every moment we had with him, including, remarkably, at our most recent board meeting in December. David Rockefeller leaves an enormous legacy as part of the Rockefeller philanthropic tradition. In addition to his generous philanthropy, he inspired us to involve ourselves actively in the affairs of our community and the nation. This was 'the doctrine of stewardship' he said he learned as a young man from his father and that he leaves with future generations of trustees and grant-makers." – Lukas Haynes, David Rockefeller Fund Executive Director