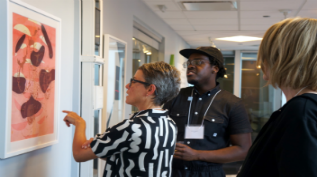 Founded in 1952, the Gaylord and Dorothy Donnelley Foundation supports land conservation, artistic vitality, and collections in the Chicago region and the Lowcountry of South Carolina. Historically, the family was hesitant to promote the foundation's work, believing that the grant awards and good work of those supported organizations would speak for itself. But as the foundation matured, the board – composed of about half Donnelley family and half non-family members – realized that not discussing the work more publicly hindered its ability to support its grantees and partners and mission.
2005
Our first steps towards becoming more publicly engaged began in 2005, when the board approved a more defined mission statement and clear language about our work.
2006
The following year, we formed a board committee to craft a communications strategy and monitor its implementation, beginning with a re-branding effort complete with a new website and logo. For the first time, we sent press releases and convened other foundation and non-profit partners to talk about communications.
2010
A few years later, we began to dip our toes into social media with Twitter. The staff created a team and added these duties to our daily grantmaking work. (See our first retweet, below!)
2012
The learning process continued. In 2012, we conducted our third Grantee Perception Report through the Center for Effective Philanthropy. Grantees and partners challenged us to further increase our visibility in our program and geographic areas, and to be more public and transparent about our leadership. With that feedback, we reexamined our communications strategy. We committed to blogging every month about the foundation and how we work. We doubled down on social media, adding Facebook.
2014
Eventually we also added Instagram to the mix and we began using analytics from Google and Sprout Social to help inform how our audiences interact with us. And we started creating collaborations between our posts and others', focusing on larger issues, rather than individual organizations.
We use each of our platforms in slightly different ways. We have our blog and news sections of the website. Facebook is our most active, most conversational platform, and we post weekly about big projects that include multiple grantees or funding partners. While it's currently our smallest audience, we're drawn to the visual aspect of Instagram, which gives us an opportunity to share the vibrancy of the work we support. When we do post there, our audience is quite engaged, so we are exploring ways to increase content.
We flit about Twitter daily (pun intended), and it serves as a newsfeed about grantees and partners, major awards or events, and general nonprofit or philanthropic trends. We use individual staff accounts to live tweet from big meetings and share information from our networks. Conversations with our audiences have really shifted from Twitter to Facebook the last couple years, so we spend less time managing it.
2016 and beyond
The communications staff team works in concert with the program staff team to build longer-term communications plans around new initiatives. For example, we used multiple in-person events, mailings, social media calls-to-action, phone calls, emails, blogs, and even a radio interview to gather data and feedback. All of this work informed our partnership with Minneapolis-based Artspace Inc. to explore the feasibility of a living/working space for artists in the Charleston region of South Carolina.
In another example, we've collaborated with a grantee organization to form a curatorial fellowship, exhibiting work from visual arts organizations we support. This allows us to communicate about each other's work through press releases, social media, and email to each other's audiences. It also allows opportunities with each new exhibit for our board and staff to meet people directly supported by our grantmaking.
(Artists and board members in conversation at the opening of a curatorial fellowship exhibit)
Looking forward, we will continue to explore more ways to engage with our grantees. The greatest challenge to doing this work is our own capacity, since there is no dedicated communications staff – just three of us working part-time on communications. But the feedback we have received from the board, our grantees, and our partners solidifies the value and the necessity of communicating the work of the foundation to our colleagues, grantees and community.
Our advice: start with a plan, start small, and build as you get more confident. The results can be fun and fulfilling!