Family Philanthropy: the Lifeblood of Family Continuity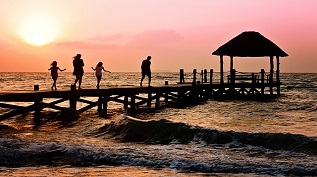 The holidays are just around the corner, which means that American non-profits and charitable organizations across the country are gearing up for end-of-year giving campaigns.
But it's not just 501(c)(3)s that benefit from the holiday spirit: Charitable giving and philanthropy can be an immense benefit to businesses – and to family businesses in particular. Having grown up in one of the co-founding families of the Sheraton hotel chain and married into the Perdue family, I've seen how this works, both in my own families and in countless others.
The Henderson Estate Company (forerunner of the Sheraton Hotels) began in 1890, and we just celebrated our 126th reunion. But by the time you're seventh generation, it's pretty much guaranteed that many members will not be working in the family enterprise – especially if the family sells the biggest part of it, as we did with Sheraton.
Even though we sold Sheraton fifty years ago, however, the Henderson Foundation and other philanthropic activities help keep everyone engaged. In fact, it's the biggest reason the Henderson family continues to get together to this day. The board meetings give us a scheduled, eagerly anticipated reason for frequent communication and for a family reunion.
I've also seen the same effect in the Perdue family: As the family approaches its hundredth year as a family business, it has several fourth and fifth generation members who will probably never be in the business. But all family members play a part in the family foundation, regardless of whether they're in the business or not.
Money often works a source of division and conflict in a family, but philanthropy can bring families together – and the rewards are powerful. It not only boosts your reputation and influence, it can be one of the most powerful forces for keeping a family together across the generations. Behaving philanthropically tells family members, "This is who we are! This is what we believe in! This is what it means to be us!" It gives family members a shared sense of identity.
No matter your size or sector, there are all kinds of ways you and your family business can give of your time and money this holiday season. Here are some of the philanthropic activities that families can do together:
Instead of exchanging gifts with each other, give gifts to those in need. My

family

regularly gets together at Thanksgiving and packs Christmas gifts to give to employees who are serving overseas in the reserves, or to associates who've experienced flooding, fires or other catastrophes. Older

family

members write letters to accompany the gifts, and the younger

family

members participate by coloring holiday decorations to accompany the packages.
Contact an organization like Habitat for Humanity and see if they'd like the services of your

family

in helping to construct or repair a home. You don't need building skills: You'll be told how you can help and you'll be given directions for doing it. It's a wonderful bonding experience – and it's one that will be particularly impactful after this year's onslaught of natural disasters.
Model philanthropic behavior for younger children. Have

family

members collect their old clothing and bring these items to a homeless shelter. In the process, the youngsters will learn that caring for others is part of the

family

's values.
If your

family

can, you might want to create a

family

foundation. It's a wonderful tool for having

family

members come together for something admirable, something that does good, something that's bigger than any individual.
You also might consider having an annual award for the

family

member who did the most for the community. The Henderson

family

has just started this tradition, and it's a wonderful way of focusing attention on what we value and what we reward.
My late husband Frank Perdue once said, "If you want to be happy, think of what you can do for someone else. If you want to be miserable, think of what's owed to you." Family business philanthropy can help you have a happy holiday – and develop a healthy family culture that can sustain and strengthen your family business.