National Center for Family Philanthropy Announces New Fellows Class of 2020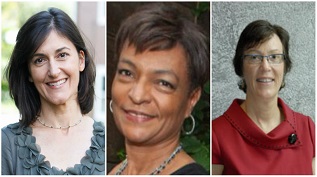 The National Center for Family Philanthropy is pleased to welcome our new class of NCFP Fellows Class of 2020: Mary Mountcastle, Kelly Nowlin, and June Wilson.
NCFP created the Fellows program to honor veteran leaders in family philanthropy and to nurture a generation of new leaders who will strengthen and add to the field. Fellows work with NCFP and the family philanthropy community to inform and shape resources and frame discussion of critical issues. They also have the opportunity to identify and advance issues of personal concern within the context of NCFP's research and educational agenda.
The Distinguished Fellow appointment recognizes a significant track record and celebrated history of leadership in family philanthropy. Fellows are mid-career and new leaders whose research and service contributes to advancing the field.
Mary Mountcastle is NCFP's new Distinguished Fellow. She serves on the boards of the Z. Smith Reynolds Foundation and the Mary Reynolds Babcock Foundation.
NCFP's new Fellows 2020 are:
Kelly Nowlin, board member of the Surdna Foundation and the past chair of the Andrus Family Fund, and
June Wilson, executive director emeritus of the Quixote Foundation.
These new Fellows join NCFP's Senior Fellow, Alice Buhl, who offers special experience in family philanthropy through writing, research, and her work with NCFP staff.
Susan Packard Orr served as NCFP's inaugural Distinguished Fellow, and NCFP's inaugural Fellows were Katherine Lorenz, president of the Cynthia and George Mitchell Foundation, and Doug Bitonti Stewart, executive director of the Max M. & Marjorie S. Fisher Foundation.