Establishing Tri-Sector Alliances To Combat COVID-19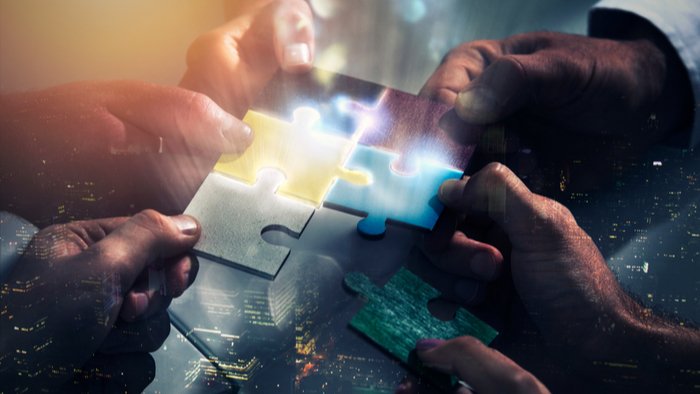 This article was originally published by Giving Compass and is re-posted here with permission.
---
Giving Compass' Take:
• Nancy Rauch Douzinas encourages business, government, and philanthropy to form tri-sector alliances as the only way to truly respond to COVID-19.
• How can tri-sector alliances expedite coronavirus response efforts? What are you doing to enhance collaborative efforts in your own organization?
• Read about the importance of alliances across sectors in maintaining food systems throughout COVID-19.
---
As with any crisis, COVID-19 has fostered resourcefulness, creativity, and activism in unexpected places. One clear area has been organically formed collaboration across business, government, and philanthropy, not just in traditionally crafted public-private partnerships, but collaborations sprouting from the grassroots, region by region, to respond to urgent community needs like supply chains for hospitals and food distribution to low-income, out-of-school students.
Organic, tri-sector alliances—where stakeholders can come together to nimbly solve community problems without the weight of formal structures—can have unique efficacy, crisis or no crisis. But in our experience at the Rauch Foundation, as the hub of one such alliance on Long Island, it isn't well understood how to grow these kinds of collaboration from seed to germination to fruit. It begins by tending the soil, building relationships between leaders across sectors with potentially common interests, but without any formal agenda, so that friendships and trust undergird organic initiatives when they sprout. Regional foundations, as neutral players, are well-positioned to do this. But healthy systems are also open, and build on their innate assets, which means they keep evolving so that their properties keep emerging through interaction with their environment, finding new sweet spots for growth. Keeping a system open calls for pollinators—to transfer ideas and strategies across a region—and (metaphoric) fertilizer to create those sweet spots. These are also roles that regional foundations are well-suited to play.
In the spirit of seeding public-private response to the next crisis, and as an ongoing force for change, we offer the following five principles for pollinating and fertilizing organic alliances.
Listen Without an Agenda
Build Relationships Before Plans
Gather Data Before Votes
Form a Hub, Not a Backbone
Sprout Issue-Based Collaborations
Read the full article about tri-sector alliances by Nancy Rauch Douzinas at Stanford Social Innovation Review.
Nancy Rauch Douzinas is President of the Rauch Foundation
---
The views and opinions expressed in individual blog posts are those of the author(s) and do not necessarily reflect the official policy or position of the National Center for Family Philanthropy.