Join Maggie Lear and Sarah Robinson to discuss racial justice journeys, practical next steps, and family discussions. Both speakers participated in the NCFP Racial Justice Learning & Action Network. They have had different journeys and will share their experiences as funders and personally. Brainstorm with the group about practical ways to activate in your foundations around racial justice. In this peer time, bring your questions, ideas, and challenges for your peers who also working on this journey across their lives, families, and foundations.
As a reminder, our Peer Network events are not recorded. 
If you are unable to attend this event, but are interested in being a part of the Board Chair Peer Network, sign up here. 
Featured Speakers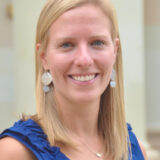 Sarah Robinson
Sarah Robinson is a lifelong learner and educator. Formally, she was a public-school teacher and instructional…
View Profile
Maggie Lear
Maggie Lear is the President of The Frances Lear Foundation, a family foundation that focuses on…
View Profile