Navigating difficult conversations is a challenging but critical component of being an effective leader in family philanthropy. In this workshop, explore how to use a powerful and straightforward framework to tackle difficult conversations. Using case studies, exercises, and their own real-life challenges, participants will learn:
How to engage in difficult conversations successfully
How to transform difficult conversations into opportunities for improvement and relationship building
How to use constructive communications to reduce hostility and interpersonal tension
How to augment learning through effective communication
Join other family members who are emerging in their leadership to build your communication skills in a family context.
The Emerging Family Leaders Peer Network, chaired by Theo Avery, Ida Posner, and Christina West-Bieg provides an opportunity for next generation family members (ages of 21-45) to advance their philanthropy and leadership. This peer network is only available to NCFP's family philanthropy members.
For this interactive meeting, we encourage attendees to join with webcams on. To help foster candid discussions, peer network events are not recorded.
If you are unable to attend this event, but are interested in being a part of the Emerging Family Leaders Peer Network, sign up here. 
Featured Speakers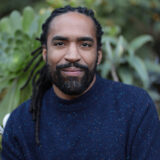 Didier Sylvain
Didier Sylvain is an experienced life alignment coach and consultant specializing in leadership effectiveness, team facilitation,…
View Profile