Engaging the Next Generation: A Primer for Community Foundation Staff and Donor Families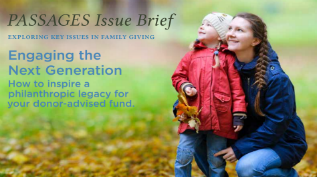 Donor-advised funds are more than just a smart and flexible vehicle for charitable giving. These funds also provide an opportunity to teach children and grandchildren valuable lessons about giving and financial responsibility — and offer a chance to create a philanthropic legacy that spans generations.. This Passages Issue Brief provides advice on how your family can engage the next generation in shared family philanthropy.
---
NOTE: This special issue brief has been designed so that community foundations in NCFP's Community Foundations Family Philanthropy Network may co-brand for distribution to their donors and advisors. To do so, please contact NCFP at community@ncfp.org for options.