Executive director position description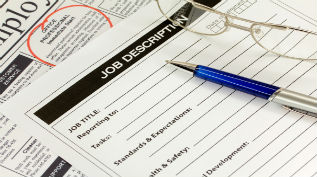 Description
The Executive Director is responsible for establishing an efficient and effective infrastructure that enables seamless execution of grantmaking functions and heightens professionalism of the foundation's operations. Working with the trustees, the Executive Director helps develop imaginative and effective grantmaking strategies and evaluates how to make the most positive impact on the communities served.
Core Responsibilities
Strategic Leadership of the Foundation's Grantmaking

: Building on the Foundation's previous work, the Executive Director establishes an office that exhibits professionalism in serving the areas of focus identified by the trustees. The Executive Director is responsible for appropriate and timely communication to all inquiries by prospective grantees and initiates and coordinates discussions with organizations the trustees want to consider supporting.

Programs

: In consultation with the trustees, the Executive Director oversees the Foundation's grantmaking protocols, recommending modifications and improvements as changing conditions warrant. Similarly, the Executive Director works with Trustees to examine and assess initiatives, priorities, and policies in response to Trustees' philanthropic aspirations, as well as to changing external conditions. The Executive Director is expected to stay fully current on relevant issues, initiatives, practices and resources needed to implement trustee-approved philanthropic objectives.

Governance

: The Executive Director is expected to work with Trustees to formalize and improve processes for decision-making and operations, developing a strong and active group of trustees. The Executive Director orients and trains Trustees in response to their individual levels of interest, creating opportunities for decision-making and governance as they desire. The Executive Director is expected to build excellent communications and a positive working relationship with all trustees in order to help them work together constructively to achieve the Foundation's goals.

External Relations

: The Executive Director represents the Foundation, conveying its vision, mission and, where appropriate, its funding priorities and activities in the community. Presenting a strong, positive image to relevant stakeholders is an important responsibility. The Executive Director develops and maintains strong working relationships and partnerships with nonprofits and other grantmakers, actively participating in relevant local, regional and national networks.

Administration

: The Foundation's investments are managed by outside professionals and an internal CIO and CFO. The Executive Director works with them and is accountable for the soundness of the Foundation's operating finances.
Additional Duties
Report to the Chairman of the Sample Family Foundation
Assist in grant research and evaluation
Work closely with the Chairman, participating in:

Site visits
Coordination of communication between Foundation and prospective grantees, including the documentation of all grantee meetings and site visits
Examination and evaluation of proposals
Consummation of grant commitments, including:

Writing commitment letters
Preparing "Blue Sheets" and other relevant documentation
Recording grants/disbursements in appropriate tracking forms

Follow-up site visits

Maintain routine administrative documents; e.g., the "Weekly Update," grant commitments spread sheet, master listing of commitments
Perform research in areas of interest; e.g., presence and types of shelter facilities in Atlanta
Participate in examination of new/special areas of interest; e.g., the "Emergency Grant Program"
Field family members' philanthropic inquiries, and respond as necessary
Communicate with Family Office personnel and investment advisers on the status of Foundation investment holdings and income
Assist in preparation for the annual Foundation Trustee meeting, and participate in the grant reports portion of the meeting
Attend regular Family Office meetings
Attend affinity group seminars, meetings, etc., as appropriate