Navigating the Territory: A guide to impact investing for donors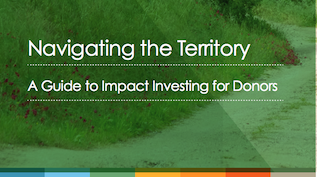 This is a straightforward navigation guide to the burgeoning field of impact investing. Many philanthropists and foundations are intrigued by the possibility of magnifying their impact on the issues that they care deeply about through deploying more of their financial resources in market-based approaches. However, they don't know how to get started or who to turn to for help and education.
The field is young, the terminology is confusing, and the resources available to help them engage are only now emerging. With this guide, the authors hope that you will develop a better understanding of the landscape and identify different ways to learn more and take positive steps forward.