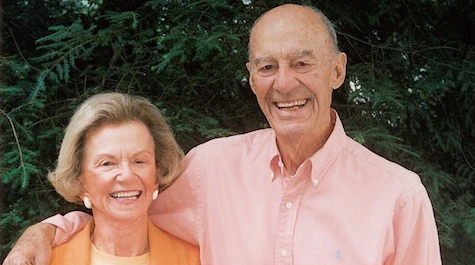 In this month's issue of Family Giving News, we feature an excerpt from the new  Passages Issue Brief chronicling the experiences of the Eckerd Family Foundation, which operated in Tampa, Florida from 1998 to 2012. Organized from its inception as a limited life foundation, the Eckerd Family Foundation took a bold and strategic approach to using its assets to create significant change on issues affecting young people, including juvenile justice, foster care, and education. The board and staff of the foundation were eager to share their story to assist other families interested in the limited life approach, as well as any funder looking to spend down its assets or be more strategic with its giving.
Jack Eckerd, leader of Eckerd Drug Stores, and his wife Ruth established the Eckerd Family Foundation in June 1998 with clear ideas for what they wanted it to accomplish.
They wanted the foundation to focus on results—Jack was a legendary businessman and entrepreneur, and he wanted his family's philanthropy to reflect a business-minded approach in its strategies and mission. He wanted the foundation to think big, strive for clear and immediate results, and find new ways to tackle long and enduring challenges.
Jack and Ruth also wanted the foundation to serve as a resource and forum for bringing his family—and especially his children—together. Each had been married previously and there were children from each marriage. Their marriage yielded two more children. As parents, they were committed to bring the family together for a shared and noble purpose.
Finally, they wanted to ensure that the foundation did not become a burden for their family. They recognized the hard work required to thoughtfully govern a foundation. They also recognized the reality that each of their children and grandchildren would have busy lives of their own, and personal philanthropic interests of their own.
With this third goal in mind, Jack and Ruth instructed the founding board to plan on spending out the foundation within 10 years of his death.
Despite this clear beginning, the Eckerd family faced a variety of important questions in the approximately 15-year lifespan of the foundation. Among them:
What does a family foundation do when its founder and driving force unexpectedly loses the capacity to participate due to death or illness?
How does a geographically dispersed, philosophically diverse, blended family come together to find a common mission and a common purpose?
What is the connection between personal giving and shared family philanthropy, and how can one inform and inspire the other?
How does a limited life foundation find a mission and focus, and develop a grantmaking strategy that can be carried out on that predefined schedule?
What are the advantages and disadvantages of a limited life approach, both for the community of grantees served by a family foundation, and for the family board members themselves?
This article focuses on the last two of these questions; for additional background, please download the complimentary copy of the new Passages Issue Brief which tells the complete history of the Eckerd Family Foundation and its limited life approach.
Advantages and Disadvantages of the Spend Down Approach
While every giving family is unique and their particular approach to spending-down will yield varying results, there are some aspects of the Eckerd Family Foundation's experience that are instructive for all families seeking to realize greater impact.
The Eckerd's approach to grantmaking reflects their founder's willingness to take risks to achieve ambitious goals, combined with the sense of urgency that accompanies a limited life foundation.
Interviews with the Eckerd family and staff, and analysis of the foundation's grantmaking strategies, suggest a variety of advantages gained from their spend down approach:
Focused Engagement: Having an end date enhances both focus and family member commitment. With a limited time horizon, several family members specifically maintain that they felt more engaged in the work of the foundation. "It lets you know there's an end of the game," says board member Nancy Nichols. "It kept my energy level up. I read everything and listened at every meeting because I knew there was going to be an end of it. "Others mentioned the idea that having a finish line in sight helped sustain their personal commitment despite the heavy levels of work and attention involved. "It's a time commitment to read about organizations. It's a time commitment to look into people that deserve and have need; and it's also an emotional commitment," says Charlie Hart, a grandson of the founders. "We can't help everyone, no matter how hard we try. The way that it was set up to spend down was something that I was happy to be engaged in. If it was set up to be around forever, to be passed down from the children to the grandchildren to the great-grandchildren, then it would have been perceived as a burden."
Commitment to Donor Intent: Limiting the life of a foundation keeps the focus on the donor's interests. While Jack Eckerd was incapacitated by a major stroke shortly after the founding of the foundation, his values, philosophies, and perspectives were both well documented and well understood by his family. With this knowledge clear in their minds, family members were unanimous in their verdict that the limited life approach was a good fit for the donor's intent."He was aware of how some other large foundations had wandered away from the basic intent of the donor," suggests Joe Clark, long-time president of the foundation and son-in-law of the founders. "While he and Mrs. Eckerd were very clear that they wanted the foundation to reflect the interests of the family, they wanted it to be in a particular context and they did not want the focus to change dramatically over time. Nor did they want to impose a lifelong burden on the extended family. After all, if you can't accomplish two or three major goals in 15 years what advantage will perpetuity add?"Board member Jim Swann agrees: "He did not want his foundation, over time, to become something totally different than what he would have wanted the money used for.
Risk: An increased willingness to take risks in order to achieve desired impact: Perhaps the clearest benefit of the Eckerd Family Foundation's approach was an intense focus on impact, which was shared by every board and staff member, and reflected in their strategies and grantmaking. "You are forced to plan specifically and to stick to your plan," states Joe. "There's not a free pass. You don't get to say, well, we didn't get to that this year, but that's okay, we'll just roll it over to next year. Time is always running out. "As the foundation deepened its work reforming the juvenile justice and foster care systems, family members also became more comfortable with taking risks, including significant support for advocacy efforts. "Because we wanted to make a change, and we wanted it to be long-term and sustainable, we knew that we could not be successful by just funding a good program; it had to include advocacy," says Jane Soltis, who joined the foundation as vice president in August 2001.
Collaboration: Limited life foundations clearly recognize the need to partner early and often to meet their goals—and to encourage their grantees to do the same. With a short time horizon and ambitious goals, the Eckerd Family Foundation was a model for funder and nonprofit collaboration. This collaboration was essential to the foundation both for achieving it's grantmaking vision during its existence, but also for ensuring that this vision would be carried forward following the life of the foundation.Vicki Sokolik, director at Starting Right, Now, a long-time grantee of the foundation, adds that this focus on collaboration extended to the foundation's support for collaboration by its grantees. "Sometimes the most important part of a funder's support has nothing at all to do with their own financial contribution. By connecting us with other organizations and funders, we were able to not only grow our program in capacity but also learn from others their best practices to help us build stability and sustainability. It also allowed us to partner on some aspects of our program so that we were not reinventing a wheel if someone was already doing good work in that field."
While everyone interviewed reports strong support for the limited life approach, many also acknowledge at least two important disadvantages of this decision:
Continuity of the Work/Long-term Impact:Most importantly, family members and staff recognize that the work they have started might not be continued or completed and that there remain many important issues and programs they wish they could address."My aunts and uncles and mother and staff developed so much expertise, so many contacts, such a record, and then all of that is then dispersed," says Jake Short, grandson of the founders. "The human capital aspect of the spend-down is sometimes overlooked."Maggie Osborn, who worked as a consultant for the foundation and also worked with the foundation in her role as vice president of the Florida Philanthropic Network, adds that the departure of the Eckerd Family Foundation from this work will be difficult for the at risk populations it supported. "I worry about the light going off of these populations. I don't worry about some of the things that Eckerd has done having incredible and long-lasting change, but I do worry that they've been such a key supporter for these populations and these issues and a strong voice across the state and I worry about who's going to continue to magnify those issues."
Loss of Vehicle for Family Participation/Succeeding Generations: With the closing of the foundation, the Eckerd family also acknowledges the absence of a vehicle for future shared family participation. "In a small way, I think people thought it was the end of an opportunity for us to work together as a family, which we are very much used to doing," states Jake. "We've come together very consistently over the years for all sorts of reasons but this was one of the most important reasons. So I think there are some questions about what will follow. "
Conclusion
Sometime in 2014, the Eckerd Family Foundation will officially close its doors, ending more than fifteen years of sustained commitment to young people. The foundation's legacy will live on for many years to come for a variety of reasons, and in a variety of ways:
The foundation has served as the focal point for the blended Eckerd family, enhancing the lives of the Eckerd family members who participated in its work, either directly as board members, or as observers and supporters, and providing them with shared memories and a shared and life-long dedication to at-risk youth.
The foundation has influenced countless other philanthropic families and funders through its participation in a variety of funder networks and statewide advocacy groups, including the Florida Philanthropy network, the youth Transitions funders group, the campaign for youth Justice, and the Quality Parenting Initiative, among many others.
The foundation has positively and directly transformed the lives of tens of thousands of families and at-risk youth in the regions they supported, most notably Florida, Delaware, and North Carolina.
Finally, the foundation has served as powerful force for learning and exploration for the family members involved "We learned how to work with family members—how to deal with the baggage and work through it," says board member Rosemary Lassiter, daughter of the founders. "We learned how to accept differences and understand why people feel that way. These are lessons for life."
Additional Information
For more information on the Eckerd Family Foundation's limited life approach, download the complimentary new Passages Issue Brief on the foundation's history or see our November 2013 webinar on this topic. Special thanks to the Eckerd Family Foundation for their financial support of this project.