Considering the Choice to Spend Down is Good for Philanthropy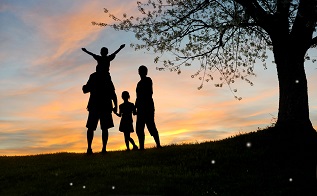 For much of the 20th century, the vast majority of US foundations operated under the idea that they would be in business forever.
But as a new generation of family philanthropists take over — and families contemplate just how long forever actually lasts and reflect on the present needs in their communities — a growing number are deciding that they would rather grant their assets during a set period of time than manage their endowments in perpetuity.
As someone who works closely with philanthropic families to help them make choices about their giving, I've been slowly watching this change in mindset evolve over the course of the past few decades.
And now, with the release of the National Center for Family Philanthropy's first-ever benchmark survey on family foundations, we're finding out just how many families are making the choice to spend down rather than operate in perpetuity.
The number of family foundations that have decided to spend down is still small — fewer than 10 per cent of U.S. family foundations have chosen to limit the lives of their organizations, according to NCFP's recently released Trends in Family Philanthropy Survey.
But the Trends results also make a strong case that this number is growing.
Nearly 20 percent of the newest family foundations have already chosen to operate with a limited life, the survey found. By comparison, only three percent of those founded before 1970 have made this decision.
If that trend continues, the percentage of family foundations operating as spend down will likely grow substantially in the future.
Perhaps even more significantly, more than 60 percent of family foundations in the country indicated that they have not yet made a decision around life span, or that they revisit the question of perpetuity from time-to-time.
The choice between spend-down and perpetuity ultimately should be based on what is best for the family and its philanthropic goals.
But the fact that the choice exists — and is being talked about — is a very healthy development. Choice provides flexibility and offers the ability for families to be able to achieve the most possible good with their philanthropic investments.
Each family has different goals with its philanthropy — but we recommend to families in our network that they consider the following criteria in addressing the question of perpetuity:
The long-term engagement of extended family: The Surdna Foundation offers a wonderful case study in the value of operating in perpetuity. The foundation, which celebrates its 100th anniversary in 2017, has endured for six generations — and has hundreds of family members still actively involved in the foundation's work. But for every Surdna, there is a similar family philanthropy that struggles to sustain the interest of subsequent generations. Families looking to make a decision about spending down often use engagement as one of their criteria. If the family is actively engaged in its third and fourth generations, it's likely to have the staying power to remain engaged for generations to come. However, if engagement is waning beyond the first or second generations, in some cases it might be wiser to consider sunsetting the foundation — and spending down the assets. As just one example of this, see NCFP's profile of the Irwin Sweeney Miller Foundation.
The urgency of your mission: Many families base their decision to spend down on the issues they are working to solve. If, for instance, they are working to address an urgent or short-term issue, they might choose to grant their assets quickly and make 'big bets' on the issues they care most about — rather than attempting to operate in perpetuity. Among the most notable examples of this is the Aaron Diamond Foundation, which spent out $220 million over 10 years, with many of the resources directed at researching cures and prevention strategis for AIDS.
The goals of the founder(s): Atlantic Philanthropies has been a passionate advocate for spend-down foundations. And its decision to operate with a limited life is directly tied to the 'giving while living' philosophy of its founder, Chuck Feeney. But not every founder shares this approach. In fact, many family philanthropists see their foundations as a way to ensure that their families remain engaged in philanthropy for generations to come — and see perpetuity as a natural way to keep their legacies alive and make a lasting impact.
As family philanthropy evolves, it's encouraging to see so many families taking the time to work through the life-span question.
Regardless of their motivations and goals, more and more families are taking the time to think about and discuss how they should manage their assets for the greatest possible impact. Some families are also building discussions about spend-down vs. perpetuity into their governance — choosing to revisit the question periodically as their foundations change over time.
These are encouraging trends — and they bode well for the future of family philanthropy.