Knowledge Philanthropy: Engaging Donors in Community Needs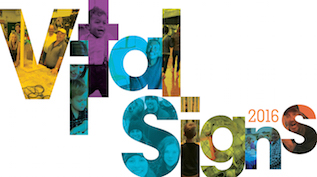 As a community foundation, the Calgary Foundation understands the importance of our 3 key roles: donor stewardship, effective grantmaker, community leader…but what's our why? What do we believe? After sixty years of serving philanthropy for the benefit of community, we've learned our knowledge of community issues and needs represents the distinct value we bring to donors – that's our biggest asset.
In fact, a recent survey of our 780 Fund Founders conducted by the Center for Effective Philanthropy indicated that donors want more stories and information on community needs and want the convenience of independently accessing resources that support their charitable giving goals.
Recognizing the immense value of sharing and leveraging our community knowledge, the Calgary Foundation has launched several innovative initiatives such as Calgary's Vital Signs and the Community Knowledge Centre (CKC) to engage donors and citizens in community building.
Calgary's Vital Signs® measures the vitality of our community, identifies significant trends and assigns grades in areas critical to the quality of life. Feedback gathered from citizens through an online survey and data from civic experts is presented in an annually published Vital Signs report that engages citizens in community building. Vital Signs raises our profile in the community, guides our priorities, increases the effectiveness of our grantmaking and better informs donors about emerging issues and opportunities.
Vital Signs also inspires action as illustrated by one donor who generously contributed $250,000 to a poverty reduction charity that was profiled in Vital Signs media coverage after being impressed with the impact of their work. Last year, our VP Communications presented the findings of the report to over 200 City of Calgary managers.
Whether it's a donor searching for information at 9 pm or foundation staff researching charities on behalf of a donor at 9 am, CKC is an online tool that features over 200+ charitable organizations working on innovative solutions to our city's most pressing issues. Media, citizens, and donors can easily and conveniently access information on programs that need supporting, view video's that share the compelling stories of how the organization is transforming lives and be inspired to contribute.
When a community group expressed interest in reaching LGTBQ youth, at the click of a finger, CKC identified 12 organizations working in that area. Even donor advised fund holders have independently used CKC to support charities in addition to their traditional gift giving.
Fostering "knowledge philanthropy" is an approach that directly supports our mission. It is at the heart of everything we do and gives us the confidence to continue building community, now and forever.