Raising the Next Generation of Givers, Doers, and Helpers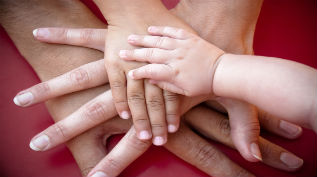 In a way, my story of raising the next generation starts long before I became a teacher, writer, or mother. Some twenty years ago, my friends and I traveled to a well-known beach town to celebrate our high school graduation and newfound freedom. However, shortly after we arrived, I ended up in the wrong place at the wrong time, witnessing a horrifically violent crime where several people attacked one person. Like anyone in my position would've been, I was unprepared to respond. I was young, far from home, vulnerable, and I remember feeling frozen in fear as I watched the brutality play out.
In the years since, I've been haunted by feelings of shame, guilt and regret, often asking myself, "Why didn't you do something…anything?"
At the conclusion of that summer, I left for college in desperate need of a fresh start. Instead, I found myself terrified of unknown places and faces, leading to severe depression and anxiety. Trying to cope, I isolated myself from others and self-medicated with drugs, alcohol and academic achievement. I was lonely and craving some sort of social interaction, so I accepted a part-time position at a preschool on campus. While there, I found solace in the children's innocence, zest for life, and the love they have for each other. My time teaching children was a first step toward trusting adults once again.
After completing my coursework and earning a Bachelors degree in early childhood education, I was hired as a kindergarten teacher in a great school, making me feel as though I'd hit the lottery of life.
Throughout my 12-year career, I became adept at helping my 5- and 6-year-old students realize their academic potential. In doing so, the deep-rooted feelings of helplessness that had plagued me, finally began to fade away.
My time in the classroom not only inspired me to live a more productive, meaningful life, but it also restored my faith in humanity. Most – if not all – of the children I worked with seemed to have been born with an innate desire to make the world a better place; they made cards for their friends who were absent due to an illness, picked dandelions for the school secretaries and protected ants on the sidewalk at recess.
I was privileged to work for a school that was supported by extremely engaged parents, many of whom went above and beyond to develop their child's generous heart.
One family used their daughter's birthday as an opportunity to help her collect, and then donate, toys to patients receiving care at Children's Hospital.
Another family collected books at Christmastime each year, and then donated them to children living in foster care.
Yet another family organized origami folding parties at recess in 2011 after the tsunami hit Japan, then sent all the handmade paper cranes to the victims as a sign of peace and hope.
It became clear to me that the children who were raised in charitable households were more likely to possess higher levels of social/emotional resilience than their peers. Unfortunately, there were also always students in my class that were enduring some sort of an emotional trauma, such as a death in the family or a divorce. As a way of addressing and hopefully alleviating some of their suffering, I would try to spend extra time with them, creating opportunities for them to become my "special" helper. This intervention worked remarkably well: reminding children that negative situations didn't have to result in negative behaviors…that they had something positive to offer the world around them even when their own world seemed to be falling apart.
Towards the end of my career however, my "special helper" trick began to lose its effectiveness. More and more children seemed to be suffering from external stressors, including high stakes standardized testing, increased pressure to perform on the athletic field and exposure to scary images in the media. All this, paired with larger and larger class sizes, made it too difficult for me to reach out to every child. All of a sudden, I found myself flooded with those same old debilitating feelings of helplessness.
This time around, however, I resisted the temptation to isolate and self-medicate and, instead, turned my pain into my passion: proactively providing parents with a variety of opportunities to educate, engage and empower their children, encouraging them to develop an identity for themselves as helpers rather than hurters.
I left the classroom in 2012 to create Giving Families, and now I offer those activities to families with children ages 3+ all over the US through a monthly newsletter called "Good Mail Challenges."
Every month, I vet each activity with my own 5- and 6-year-old children; some of the activities we've shared with others include: delivering Valentines to neighbors living in a nearby nursing home…
Going on a "Litter Scavenger Hunt" at local parks…
Selling lemonade to raise money for Alex's Lemonade Stand.
And making dog and cat toys out of recycled materials to donate to a local animal shelter.
As my husband and I complete these activities with our children, they've not only strengthened us as a unit, but they've helped our children grow as individuals. On a regular basis, they're reminded that they have so much to offer the world, despite their young age! They exhibit an increased sense of self-esteem because they've seen the impact of their efforts, making them confident in their abilities to make the world a better place. And, as a result, they're more in-tune to the world around them, enabling them to anticipate the needs of others and then meet them because "you can't be a servant unless you're observant."
Just the other day, my daughter noticed a neighbor walking her dog on an extremely hot day and said, "Mommy, that dog is covered in fur; I bet she's hot! We should put a bowl of water out for her so she can stop for a drink. Maybe we should put a bottle of water out there too…you know, for the human!"
Helping others has not only become a significant part of who my children are and what they choose to do, but it now influences how we interact with each other and where we choose to spend our family time together. On rainy days, my children want to go to the nursing home and play board games with the residents. They no longer ask to play at the park on sunny days but, instead, ask to go to an animal shelter and play with the dogs and cats waiting for their forever home.  And when they see litter on the ground, they ask if we can stop to pick it up because "littering is wrong."
Throughout my personal experiences as a teacher and as a mother, but also as a survivor of severe depression and anxiety that resulted from a painful instance of helplessness, I've learned that the healing power of helping others is a resource we can all benefit from… children included!
If you're interested in helping raise the next generation of givers, doers and helpers, please join us at GivingFamilies.com.