Five Questions for Kelly Nowlin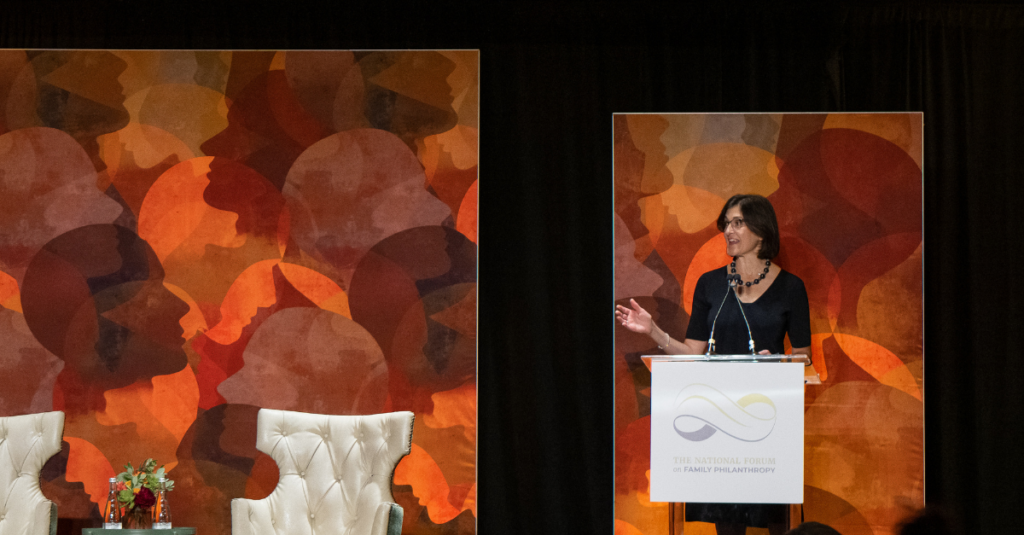 Anniversaries are times for reflection on and celebration of the past, as well as opportunity to imagine the future. As NCFP celebrates our 25th anniversary, we are speaking with community members about their reflections on the evolutions of their own philanthropy, the sector, and NCFP as well as their hopes for the future.
Kelly Nowlin is the current chair of the NCFP Board of Directors and served as an NCFP Fellow from 2018-2021. She is a trustee at the Surdna Foundation. Recently NCFP sat down with her to talk about her reflections on the evolution of NCFP and the field.
---
How did you get involved in philanthropy?
My aunt, Edie Thorpe, had been engaged in the Surdna Foundation for many years and started to encourage me in my late 20s to attend family reunions, where information about the Foundation was shared. Then Surdna established its first ever next-generation fund called the Andrus Family Fund and Edie nudged me to apply. I began as one of eight founding board members of the Andrus Family Fund with a charge from the Surdna board to "make us uncomfortable." It was a gift like no other in terms of a learning journey for me personally, as well as for the family and its philanthropy.
I do my best to carry Edie's legacy forward. She really began the family philanthropy program at Surdna and I followed in her footsteps to chair the program for the last 12 years. It's been more rewarding than I could have ever imagined.
As you think about philanthropy, what strikes you as the biggest changes or evolutions?
The pandemic and racial reckoning made more visible disparities that many in philanthropy had not been attuned to. As a result, we've seen philanthropy better understand that we can step up and be responsive and nimbler in how we support our grantee partners. In addition to moving resources more quickly, we're seeing more foundations interrogate their own practice—the way they make decisions, the requirements they have for applications and existing grantees, the type of grants they are making, and more. There is a sense of greater accountability on philanthropy's part in this moment that I hope continues.
While these changes aren't being adopted universally, there is a palpable shift in what we're talking about and the way we are talking about it. There's more dialogue racial equity, power and privilege, how wealth was created—topics that used to be controversial or fraught in some ways for many in the field of family philanthropy. Now, I'm seeing thoughtful reflection and conversation on these important topics and for many, it's leading to shifts in practice, culture, and strategies.
Another change I hope endures is related to board governance and was articulated by Anne Wallestad in her piece on purpose-driven leadership. She called attention to the fact that we are in service to something larger. Our giving vehicles are a part of a larger ecosystem that must be understood so that we can support social change efforts systemically and holistically. We must center voices that are most proximate to the issues we seek to support and embed equity in all we do. I hope the way funders are now reflecting on their governance and decision-making processes with a purpose beyond their individual institutions' interests, sustains and continues to more effectively address the issues of our time.
How have you seen NCFP evolve and what role do you think NCFP should play?
NCFP has really been the hub for gathering family philanthropies. It's rare that you find a community that gathers and engages donors and trustees to this extent. NCFP has been supporting giving families with resources and opportunities for peer learning over the last twenty years. This moment in time calls for NCFP to lean in and have a perspective on what it believes are the effective tenets of family philanthropy, and the belief that equity is central to all our work.
NCFP has been doing its own deeper work around equity, both internally and with community. Internally, NCFP is examining its own governing body. As NCFP's board chair it's been exciting to explore questions like: Who have we defined as "family philanthropy"? Do we have the right representation, voices, and perspectives on the board that help guide and shape this field?
The organization is also building partnerships with other philanthropy-serving organizations (PSOs). We're not considering them to be competitors, but rather collaborators and teachers. Together, NCFP and other PSOs are strengthening a perspective on what effective family philanthropy means and NCFP is tapping into the expertise of other organizations to advance our belief that racial equity is an essential component of effective family philanthropy.
It's great to see NCFP express a point of view yet also understand the organization is still learning and evolving. New members are engaging, and new donors are being cultivated to support our work because of the shift in approach and voice. We're truly a learning community that welcomes anyone who wants to learn, grow, and have the sometimes-challenging conversations. It's a wonderful moment for the National Center.
What are you most excited about?
It is hard to be excited at the broadest level. Economic and health disparities are widening. We're witnessing so much polarity and othering. Philanthropy's approach has often not served these issues as best as it could whether due to layers of requirements and policies for funding, neglecting a lens of history, systems, and equity, and/or missing the voices of those most impacted by these persistent issues.
However, the next generation, particularly young organizers and activists, is what gives me hope. They are growing up in a different world, and formulating perspectives, values, and voices early on. They are engaging and innovating. They are building movements and challenging the status quo. And, they're questioning how their families have practiced philanthropy. I'm hopeful that these voices will continue to be brought in and that the sector sees the value in multi-generational engagement that is balanced in power and voice. I hope that we listen and experiment with the bolder approaches that our younger generations embrace and I'm excited to continue learning from them.
I'm also excited that there are funders who are stepping up and becoming both leaders and teachers, showing us, as a sector, how we can shift and share power. Funders who recognize that flexible, multi-year funding is strategic; and that we must go beyond the 5% funding minimum and leverage all of our assets if we are ever to make progress on the issues we care about.
The sector is changing with generational shifts in leadership, new wealth emerging at rapid rates, continued growth in impact investing and more. Philanthropy Serving Organizations like NCFP have an exciting and important opportunity to lend support, offer learning tools and resources and advance a perspective on what effective practice truly can be.
What is your bold call to action for your peers?
Funders need to listen, practice trust-based philanthropy, and fund BIPOC-led/serving organizations at a much greater scale across all social issues. The needle has not moved enough on the percentage of funding that supports BIPOC leaders and I want to call on my peers to fund BIPOC-led organizations and movements like they never have before. Within our social "bubbles" and networks, we often lack the breadth and depth of perspective that we need to be effective funders. BIPOC leaders and communities are the closest to and most impacted by so many of the issues that we are all working on. And they therefore have the knowledge, the solutions, and the ability to create transformational change. Let's build upon the positive shifts we've seen in philanthropy these last few years, continue to question ourselves and our approaches, and go deep versus wide in our partnerships.
Kelly Nowlin is the current chair of the NCFP Board of Directors.