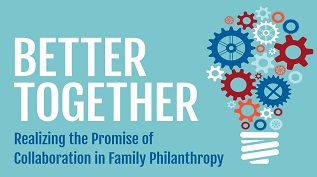 Unique challenges arise, and unique opportunities open up, when family donors get involved in collaborative work in philanthropy. This report explores those special challenges and opportunities, and offers a set of recommendations for how to realize the promise of working better together. The insights here are based primarily on in-depth dialogues about family philanthropy collaboration that occurred during the third National Summit on Family Philanthropy, held in New York City in June, 2015, and hosted by the Dorothy A. Johnson Center on Philanthropy.
The ways in which family donors can collaborate include partnering with other donors or sectors, working with and among grantees, and even engaging across generational or other dimensions within their own families. In these collaborations
family donors face distinct challenges related to their own capacity and power, their tolerance for risk and transparency, and the complexities introduced by the personal involvement of donors and by family dynamics.